LG Adds Five To CDMA Fleet
Article Comments 10
Mar 14, 2005, 8:00 AM by (staff)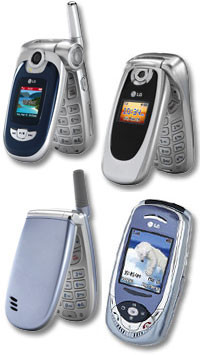 At CTIA today, LG unveiled 5 new CDMA phones, including a new EV-DO model, as well as a GSM slider.
VX-8100: LG's next EV-DO handset builds on the features of the 8000 - fast data, 1.3 megapixel camera - and adds Bluetooth, a MiniSD memory card slot, and an MP3 player with controls on the front cover. Also features speaker-independent voice recognition, stereo sound and a new 3D graphics engine.
PM-225: A CDMA clamshell with an internal antenna. Features dual color screens with a VGA camera and photo caller-ID.
VX3300: An entry-level CDMA clamshell with interchangeable faceplates. Features speakerphone and an email client.
F7200: A dual-band (850/1900) GSM slider with Push to Talk plus AIM, ICQ and Yahoo! instant messenger clients.
Not pictured:
VX-5200: A traditional CDMA clamshell with an external antenna that shares all the features of the PM-225.
VI-125: A basic CDMA clamshell with an integrated antenna and dual displays. Available from Sprint today.
source: LG Electronics
Woo!
It's nice to see the 8100 offer bluetooth...but I'm assuming Verizon will only offer it with its restrictions in tact. I wonder why the F7200 doesn't offer MSN messenger? It seems like ICQ, AIM, and Yahoo are always represented...but where's MSN? Too bad the PM225 won't see the light of day in a Verizon store...I'd like a handset with no external antenna whatsoever.
I've only ever seen MSN on Windows Mobile running handsets. Maybe MS demands that the phone run Windows Mobile or they can't have MSN. It wouldn't surprise me. 🙄
Seems to me muchdrama you would like allot of things, but verizon aint going to give them to you brah.

verizon sucks 🤣 🤣 🤣 🤣

j/k muchdrama dont go crazy on me now.
verizon is a fine company I have been with verizon for five ...
(continues)
Can't Wait
These phones look cool. How long do you think until they will be out? Hopefully soon.
-Brett
Probably never. Take a look at the PhoneScoop archives in the past year and out of all the CDMA phone's announced, I'd say probably three ever made it to Sprint or Verizon. Carriers rule the hardware, not the manufacturer. ☹️

I agree, though, the...
(continues)