Google Hits Refresh Button on Mobile Google.com
Article Comments 10
Oct 11, 2012, 7:58 AM by Eric M. Zeman @phonescooper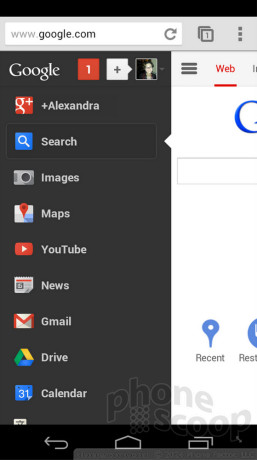 Google is rolling out a revised version of the Google.com home page for both the Android and iOS platforms. Android and iOS device users who navigate to Google.com will be able to access a new sidebar that has links to other Google services and apps. The sidebar will also offer notifications for Google+ users. Android and iOS devices need take no action to access this new feature other than visit Google.com from their mobile browser.
Not seeing it
How do I get the sidebar to come up?
hit the button in the top left corner with the little lines.
i had to actually hit the web icon on the top of the page for the refresh to take place on my HTC One X using Chrome.
First thought.
Anyone else think this looks ALOT like the facebook app...? just sayin....
I agree - it really does. Don't worry, I don't think there will be any lawsuits. After all, it isn't apple....