Hands-On: Sony Xperia TL
Article Comments
Oct 4, 2012, 5:53 PM by Eric M. Zeman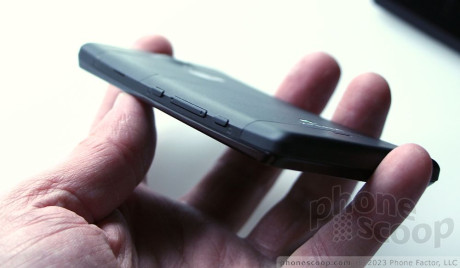 Sony's latest Android smartphone for AT&T is the Xperia TL. This LTE-equipped device has a solid screen and some personality in the design. Here are our first thoughts.
Advertisements article continues below...
The Xperia TL is a variant of the Xperia T. The T is being sold overseas, while the TL is a version specifically for AT&T. They look the same, the only difference is support for AT&T's LTE network in the U.S.
The design is certainly unique. Sony is bringing back the arc shape, but it's a reverse arc. The bottom of the phone has curved edges that are thinnest at the middle points of the sides and are thickest at the corners. It sort of gives the TL four feet when placed on its back.
This design choice makes the TL a really good phone to hold in your hand, but not so good for stuffing in your pocket. I really enjoy how the curves and matte materials feel against the palm of my hand. It has a good weight and a nice balance to it. Sticking it in your pocket is an entirely different story. The four "feet" (such as they are) feel prominent in against your leg.
The controls of the device are overly fussy, which is typical for a Sony device. The buttons have a cheap feel to them and don't offer satisfying travel and feedback. The hatch that covers the SIM card and microSD card on the right edge, in particular, practically falls off when you touch it.
The fit and finish was not what I'd call amazing. It has some creaky plastics and was not firmly put together. We can only hope that the production devices will be more solid.
The display is excellent. It's bright, vibrant, and 1280 x 720 pixels. It really looked clear and crisp, with sharp graphics. Some sample movies looked impressive on the display.
Performance was decent. I can't complain about screen transitions or app performance on the units they had on hand.
Will this phone sell well? Perhaps. As long as the final units are manufactured with a greater degree of quality control, it has potential.
No messages