Nokia Updates 6230 And Adds 2 More Phones
Article Comments 7
Mar 1, 2005, 5:19 AM by (staff)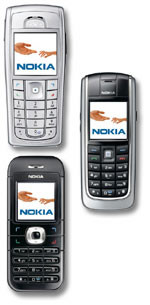 Nokia today unveiled their spring GSM line for Europe and beyond in anticipation of CeBit next week. Although these phones are destined for launch outside of North America, it is likely Nokia will announce American version of one or more at CTIA in two weeks. Curiously, two of the three phones announced lack a camera.
6230i: An update to the 6230 featuring a new, higher-resolution 208 x 208 pixel screen, a 1.3 megapixel camera, and Visual Radio. The 6230i also includes Push-To-Talk, Bluetooth and class 10 EDGE. The music player now supports iTunes AAC (m4a) files as well.
6021:A tri-band 900/1800/1900 GSM/GPRS phone with class 6 EDGE, featuring Bluetooth and Push-To-Talk. Does not include a camera.
6030: A dual-band phone with an FM radio.
New Nokia phones panned
New Nokia phones panned by brokers
4:10 p.m. 03/02/2005 By Steve Goldstein

Sony Ericsson, Motorola considered more interesting
LONDON (MarketWatch) - Three new phones introduced by Nokia Corp., the world's leading maker of handsets, are being panned by brokers.

ABN Amro, Nomura Securities and Dresdner Kleinwort Wasserstein all noted their dissatisfaction with Nokia's (NOK) new offering.

Instead, phones from Scandinavian rival Sony Ericsson, the joint venture between Sony Corp. (SNE) and Ericsson (ERICY), drew more acclaim.

Brokers said the lackluster Nokia offering also provided Motorola Inc. (MOT) with the opportunity to win over phone users.

Nokia said Tuesday it was launching three mid-range phones, includ...
(continues)
6230i
Rich, you seem to know everything.

What the heck is "Visual Radio?"
KnifeySpooney said:
Rich, you seem to know everything.

What the heck is "Visual Radio?"
I would assume you'd be able to see some type of GUI interface on the phone's screen. And, of course, I could be completely inse...
(continues)