FCC Outs High-End ZTE Android Phone for Cricket
Article Comments 4
Sep 11, 2012, 6:00 PM by Eric M. Zeman @zeman_e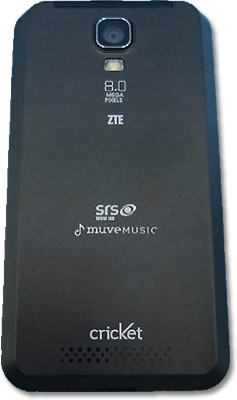 Documents seen on the Federal Communications Commission web site reveal details of an unannounced Android smartphone made by ZTE. The V8000, as it is referred to by the FCC, supports the cellular bands used by Cricket Wireless and includes Cricket branding on the hardare. The FCC also confirms that the device includes Bluetooth and Wi-Fi. According to photos posted by the FCC, the V8000 has an 8-megapixel main camera with flash and a user-facing camera of unknown quality. Other elements of the hardware visible in the images include a microUSB port and 3.5mm headset jack, as well as SRS Audio and MuveMusic logos. The four buttons visible on the front of the V8000 suggest that it runs Android 2.3 Gingerbread, but the FCC documents don't confirm the operating system details of this phone. Neither ZTE nor Cricket Wireless has released information regarding this device yet.
I think
it needs a few more logos stamped on the back there.

It looks like a Nascar racer....
or one of those european soccer players with the ads all over their uniform, yeah that is the first thing I thought of when I saw that.