Nokia and Microsoft Announce Lumia 920 PureView
Article Comments 6
Sep 5, 2012, 9:12 AM by Eric M. Zeman
updated Sep 7, 2012, 7:40 AM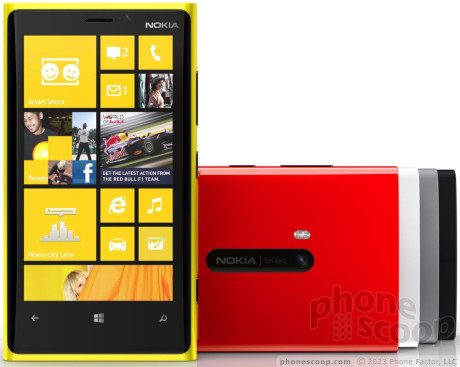 Nokia and Microsoft today announced new Lumia smartphones at an event in New York City. The first is the Lumia 920 PureView, which runs Windows Phone 8. The 920 is the first Windows Phone device to offer Nokia's PureView imaging technology. PureView technology helps the Lumia 920's camera capture new details and offers lossless zoom with better low-light performance because it captures between five and ten times the amount of light of competitors thanks to floating lens technology. It is paired with Carl Zeiss optics and rates 8 megapixels. The 920 also includes inductive wireless charging. Nokia takes navigation services seriously, and the Lumia 920 will include Nokia Drive, Nokia Transport, Nokia City Lens, and Nokia Maps paired with offline support and GPS. The Lumia 920 has a 4.5-inch, curved display with new PureMotion and ClearBlack technology that allows for blur-free scrolling on the screen and deep blacks. It is an LCD that offers WXGA (1280x768) resolution and can be used with bar fingers and with gloves on. Other features include a dual-core 1.5GHz Snapdragon S4 processor, NFC, and a 2000mAh battery. Pricing and availability has not yet been announced. The Lumia 920 will be cased in the same polycarbonate material as the Lumia 800 and 900, which Nokia says is scratch-proof and allows them to offer multiple different colors.
AWS Band IV Missing
I'm a bit disappointed that Band IV AWS WCDMA is missing from the 920. The thought of 2.5g via T-Mobile on a phone like is like putting on a 2200 rpm engine governor and locking out the top two gears on a Ferarri. It will still look wicked but it is not going to be the full experience. ☹️ I hope there will a T-Mobile US 4G version of this down the road.

Also I am going to miss Symbian. The last seven years my phones have run on it. I know it, understand it and am quite comfortable with all of its ins and outs.
Yeah - it is unfortunate. They would definately boost sales - for any phone, to include more bands rathar than less. I'm really surprised Nokia didn't include these most of their older symbian phones (c7, c6-01) had 5 band WCDMA. Shame to see they d...
(continues)
Looks promising
Now that the handsets caught up to Android in terms of specs lets see what WP8 has to bring to the table.
This is REAL innovation
Includes wireless charging? You can use it with gloves on? These are features that are awesome, Nokia is definately back in the game. Now lets see if people actuially buy these Windows 8 phones.
Cool camera tech
It will be interesting to see if this phone goes mainstream.
Looks
I hate the way the Lumia 900 looks, but the Lumia 920 looks appealing.