AT&T Intros the Pantech Flex
Article Comments 12
Sep 4, 2012, 8:59 AM by Eric M. Zeman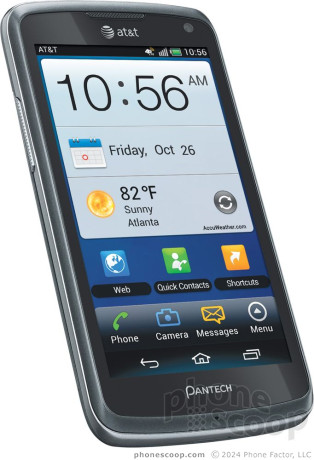 AT&T today announced the Pantech Flex, and new Android smartphone that includes an "Easy Experience" mode for those upgrading to their first smartphone. The Flex runs Android 4.0 Ice Cream Sandwich and can quickly switch between a standard Android user interface and the Easy Experience. The device features a 4.3-inch qHD Super AMOLED display and a 1.5GHz dual-core processor and includes SwiftKey's virtual keyboard. It also includes an 8-megapixel main camera with 1080p HD video capture, and a 2-megapixel user-facing camera. The Pantech Flex supports AT&T's LTE 4G network. It goes on sale September 16 for $49.99 after mail-in rebate with a new agreement.
The lockscreen is pretty freakin' adorable.
Just saiyan...
Yeah the light-switch is a pretty cool idea. Would be even better if they enhanced the lock screen by changing that to one of those Slider-Dimmer light switches, which you could use to not only unlock the phone, but change the brightness on-the-fly. ...
(continues)
Gingerbread
I can't believe they're still releasing phones with Gingerbread on them.
That's Ice Cream Sandwich.
Google really needs to do something about this. Google needs to put a policy stating that oem have to ship the 2 newest OSes until 3 months after releasing the newest OS, then oem can only sell devices with the newest OS afterwards. If oem don't Goog...
(continues)
The article, if you had read it, said:
...The Flex runs Android 4.0 Ice Cream Sandwich...