Best Buy Outs the Samsung Galaxy Stellar for Verizon
Article Comments 3
Aug 27, 2012, 3:35 PM by Eric M. Zeman @zeman_e
updated Aug 27, 2012, 3:44 PM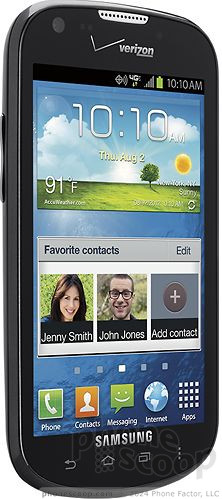 Best Buy today published a product page for the unannounced Samsung Galaxy Stellar. This bar-style smartphone, which bears Verizon Wireless markings and includes support for Verizon's LTE 4G network, runs Android 2.3 Gingerbread. It has a 4-inch WVGA touch display and is powered by a dual-core 1.2GHz processor. Other features listed on Best Buy's web site include a 3.2-megapixel main camera and a 1.3-megapixel user-facing camera; and Bluetooth, GPS, and Wi-Fi. Best Buy is selling it unsubsidized for $449.99.
AD article continues below...
sue
looks like the iphone 566
You going to post that about every single new Samsung phone that comes out ? Bet you will.