Hands-On with the LG Motion
Article Comments 2
Aug 21, 2012, 4:05 PM by Rich Brome
updated Aug 21, 2012, 5:10 PM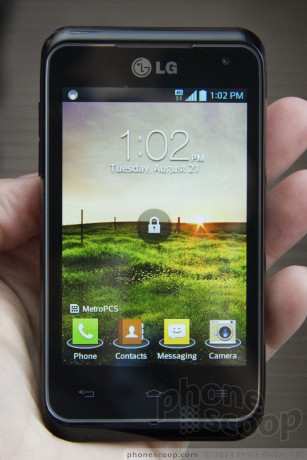 We spent some time with LG's new affordable 4G LTE phone for MetroPCS. In the Motion, LG has packaged some decent hardware with some advanced camera software and all kinds of extra apps and Android customizations. See how it stacks up as we go hands-on.
The LG Motion is designed explicitly to meet MetroPCS's goal of offering 4G LTE Android phones for $149 this year. As MetroPCS doesn't do contracts, that's the full, true price of the phone. Considering that MetroPCS sells some phones for well over $400, the Motion's price is easily its most attractive feature.
The Motion's hardware is about what you'd expect for a phone of this class. It's a smallish plastic slab. The plastic back has a light texture to it, although unfortunately it doesn't help make the phone easier to grip. The side keys are small and not easy to find by touch alone, but work well enough. The screen is bright, but otherwise average. The build quality seems decent overall.
The three touch keys below the screen look like Android 3.x keys, even though this is an Android 4.0 phone. LG has joined a growing number of manufacturers in rejecting Google's guidelines for a recent-apps key. Instead, on the Motion, you'll find an old-school menu key. Pressing that for a second brings up the (even older) search function. Pressing the home key for a second is how you access Android 4.0's recent app switcher.
The lock screen has four shortcuts, for things like messaging and camera. The Motion offers extensive customization. Special LG tweaks let you easily customize the home screens, app menu, and even notification shade shortcuts. The main app menu includes a tab for downloaded apps. Things likes the home screen editor are a little redundant, but the ability to customize lock screen shortcuts and notification shade tools are a major boon. There are a relatively huge amount of Android customizations made by LG, especially for Android 4.0, and for a relatively low-end phone.
The camera software is where the real magic is. I've never seen such advanced camera software on a phone so affordable. I would have been pleased to see a fully-automatic sweep panorama mode and touch-to-focus. Those are there, and work well.
But I was floored to see HDR mode, and a "Time catch shot" mode that works a little like a time machine; in this mode, when you touch the shutter button, you get a choice of shots, including several from before you touched the shutter button. Both features work as advertised, if a little slow; there's no special chip to speed up the camera on a phone at this price. But the features are there, they work, and they're unprecedented in this class.
There's also a useful twist on the self-timer function: instead of counting down, it simply waits until you say "cheese!", then snaps that awesome photo of you and your cat. Your cat couldn't care less, but the web will be better for it. Maybe.
The surprises continue in video mode, where you'll find 1080p HD video and included video editing software. The editing software lets you mix in video, stills, and music, together with "themes" that apply effects. The themes are a bit over the top and don't give you much control. Nonetheless, any kind of video editing is interesting on a phone like this.
Then there's "QuickMemo", which is accessed by holding down the up and down volume keys at the same time. This takes a screen shot, essentially, and then lets you draw on it, then share it, via MMS, email, or any other sharing option Android gives you. It's an easy way to share a web page or a photo, and draw a quick arrow or circle or smiley face, for example. Good luck writing text with your finger any longer than "LOL", though.
You'll also find DLNA, and a bunch of extra apps for social sharing and messaging. If you still use AIM or Yahoo! Messenger, you're in luck.
In all, the Motion looks promising, for what it tries to be. We look forward to doing our full review.
I like this.
I would rather have a phone with a lackluster, smaller screen with great system specs than a phone with a large gorgeous screen but terrible internal hardware.

It seems like in the past with cheaper phones like this they've tried to make phones that compete with screen size/quality but skimped on the processor and such, which leads to a terrible user experience. This seems like a much better compromise.
Agreed... I have avoided Android devices up until now for several reasons, but the two biggies that remain are 1) that I can't stand the giant 4"+ screens that most Android OEM's think every Android device must have in order to compete at all, and 2) ...
(continues)