Review: Huawei myTouch and myTouch Q for T-Mobile
Article Comments 3
Aug 17, 2012, 2:56 PM by Eric M. Zeman @zeman_e
updated Aug 17, 2012, 3:43 PM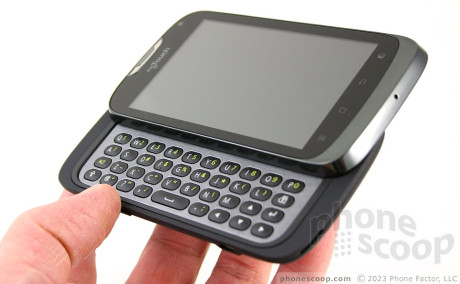 Huawei is the latest phone maker to tackle T-Mobile's myTouch series, which come in two varieties: with and without QWERTY keyboard. Does Huawei fill the shows previously worn by LG and HTC? Phone Scoop delivers the verdict.
AD article continues below...
Form
Is It Your Type?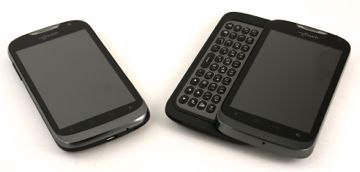 Huawei delivers not one, but two myTouch Android smartphones to T-Mobile. The myTouch line has always landed in the middle of T-Mobile's Android line-up, and these two additions from Huawei fit snugly in that classification. They aren't chock full of the latest specs, but they both offer plenty of power and performance in attractive packaging. The myTouch is a slender slab and the myTouch Q bulks up with a QWERTY keyboard. Which one is right for you? Phone Scoop has the word.
Body(s)
The MyTouch and myTouch Q are essentially the same phone. The Q simply has a slide-out keyboard. Rather than review them separately, Phone Scoop is looking at them together.
From a distance you probably couldn't tell the two phones apart. They use the same design, colors, and materials. The front fascia is black and is rimmed in a grayish strip. The back surface has a matte black soft touch finish to it that I like both in terms of looks and how it feels.
The overall fit and finish of both devices is decent, but not quite top notch. Some of the seams don't line up perfectly, and there's a slight creakiness to the device that cheapens the perception of its quality. They aren't falling to pieces, mind you, but the manufacturing could have been a little bit cleaner.
The myTouch has a slim profile and rounded edges. It is comfortable to hold and use. The myTouch Q is only a bit thicker, but the added girth didn't make it any less comfortable to hold and use. It's noticeably heavier, though, and more of a brick in your pocket. Both devices are easy to carry about.
Since they run Android 2.3 Gingerbread, there are four capacitive buttons below the display: Menu, Home, Back, and the Genius button. The Genius button launches T-Mobile's voice-powered search app (more on that later). All four buttons are responsive and offer haptic feedback, should you wish it.
The volume toggle is on the left edge of both phones. I really like the feel of this toggle. It offers a good profile that's easy to find, and the travel and feedback is very satisfying. The same goes for the other two buttons — lock and camera — where are on the top and right edge, respectively. The buttons have a good shape and the perfect amount of feedback. The 3.5mm headset jack is on the top of both phones. Oddly, the microUSB port is on the left edge of the myTouch, but on the bottom of the Q.
The battery covers require some work to remove. The clips that hold them in place are extremely tight. I had to resort to using tools in order to save my fingernails from certain annihilation. Once removed, both phones offer access to the battery, SIM card, and microSD card slot. The microSD card can be installed/removed without pulling the battery.
So how 'bout that QWERTY slider on the Q? It's ok. The top half of the device pops up easily thanks to some strong spring assistance, but it's not a smooth action. It's a little rough, but the grating I felt doesn't affect the performance of the slider. It just feels off. The keyboard has four rows; three are reserved for letters, numbers, and other characters, and the fourth row is mostly controls, like arrow keys and the space bar. I am happy to see dedicated period, comma, and "@" buttons. The numbers run across the top of the keyboard and you have to use the ALT button to activate them. The keys themselves are tiny ovals. They have a wee bit of shape to them, which makes them a bit easier to find than if they were flat. Travel and feedback is fine, but I found typing on the Q to be very unsatisfying. I had trouble adjusting to the keyboard as a whole. I often pressed more than one key at a time, which meant I had to stop and edit the text. I'd rate the keyboard a "B" at best.
All in all, the myTouch and myTouch Q are decent little phones, hardware-wise. Not perfect, but certainly worthy of their middle-rung status.
The Three S's
Screen
Both devices have a 4-inch display that packs 480 x 800 pixels. Two years ago, that was the best screen resolution for which you could ask. Now, it's middle of road. It looks good, not great. From a comfortable reading distance, it is hard to see individual pixels, and most text looks sharp, but hold it closer and you begin to notice them. Colors look really nice, and it has a wide viewing angle. The display is plenty bright for indoor use, but it's almost impossible to use outdoors for activities such as snapping photos or looking up directions. I was constantly seeking shade so I could read the display when out and about.
Signal
Signal performance was solid. Though neither phone showed more than two or three bars most of the time, all the phone calls I made went through on the first dial, and they never dropped a call. Data performance was a bit more inconsistent. While web pages loaded swiftly most of the time, other tasks such as refreshing Facebook or Twitter took much longer than they should have. The only time the browser timed out was when under EDGE coverage.
Sound
Phone calls sound very good through the earpiece. The quality of calls was relatively clean and had a warm timbre. The volume of the earpiece was excellent. It stopped short of being painfully loud, but moves enough air that you'll be able to hear conversations in most environments. I found setting it to about 75% was the best for general use. The speakerphone is an altogether different story. Call quality nosedives. I noticed a lot of interference and scratchiness in calls conducted over speakerphone. Worse, the speaker itself produces a quiet, brittle sound that is not very pleasant or useful. I had a hard time understanding a conversation held in a near-quiet house, let alone one in a noisy coffee shop. Similarly, the ringers aren't loud enough. I missed several calls because I couldn't hear the phone ring even though it was in my pocket. The vibrate alert will help mitigate this a bit, but it could be better, too.
Battery
The myTouch and myTouch Q can each last an entire day on a single charge, but not much more than that. The batteries that provide the juice rate 1500mAh. During my tests, the myTouch consistently outlasted the Q by several hours, even though the devices are nearly identical. I took special care to set the devices up in identical fashion with respect to apps, services, and radio settings. I reached out to T-Mobile to see if it had an explanation, but have yet to hear back. Either way, you'll need to charge the phone every night.
Basics
Menus
It pains me to tell you that the myTouch series ships with Android 2.3 Gingerbread. Right now, there are no plans to update them to Android 4.0 Ice Cream Sandwich. That may be a dealbreaker for some of you, I'm sure. T-Mobile said the myTouch and myTouch Q will remain ICS-less due to hardware limitations.
The lock screen presents four options: Unlock and three app shortcuts: messages, phone, and camera. These cannot be customized or changed. There are five home screen panels, which T-Mobile has crammed with bloatware. You can ditch the widgets and shortcuts, but most of the bloatware apps can't be removed entirely from the device.
The permanent icons in the home screen dock include the phone, messages, and browser. These can be rearranged or replaced with other shortcuts, should you so wish. The main app menu is a vertical grid that you swipe up and down to scroll through. It can't be customized or viewed in any other way. I particularly dislike that it always clusters the eight most-recently used apps up at the top of the listing. It gobbles up half the visible space for apps, though I suppose some might find this handy.
The notification shade offers quick access to on/off buttons for Wi-Fi, Bluetooth, and GPS, as well as the auto-rotate control.
The full settings controls are old-school Android and will make sense to anyone familiar with Android.
As far as performance goes, the myTouch and Q do well, but not stellar. They use a 1.4GHz Qualcomm Snapdragon S2 processor. Most of the time, it gets the job done with no problem, but there were times when it stuttered when transitioning between screens or took too long to open an app.
Messaging
The included messaging tools on the myTouch are mostly the stock Android options. That includes email, Gmail, Google+, Google+ Messenger, Google Talk, and the regular old SMS app. These all behave just as they do on every other Android phone.
There's also a T-Mobile email application, and a completely independent Yahoo email application. Both work fine for delivering email to the myTouch and can be used to read, send, reply, and all that. They're not as elegant or powerful as the native Gmail application, though.
As for social networking, both Facebook and Twitter are pre-installed.
Perhaps the most unique feature to the myTouch is the T-Mobile MobileLife Organizer app. The tool is meant to help families share a calendar and help keep everyone's schedules organized. It includes a central calendar, grocery list, to-do lists, family journal, shared photo screensaver, Android widgets, and a message board. MobileLife syncs across devices, so a change made on one is reflected on others in the same plan. In other words, if Mom decides dinner on Friday is going to be at Applebees instead of TGIFriday's, she can let everyone know at once by updating the event in the MobileLife Organizer app.The application also works with iOS and BlackBerry devices.
Media
Music
There are plenty of options for music fans. In addition to the Google Play Store and Google Play Music apps, the devices also include an FM radio, T-Mobile's Music Hub, and Slacker. The T-Mobile Hub is an online music store run by T-Mobile. It includes regular tracks, ringtones, and music apps. Individual tracks cost $1.29, and include both a version optimized for the phone and one for your PC.
Video
Video fanatics will be pleased with the offerings on the myTouch (Q). The Play Store is available for movie and television show purchases/rentals. Netflix is also on board. T-Mobile Live TV is present and accounted for, and so is DLNA for sharing to other devices, such as TV sets. DLNA works with the native video player app only, and not Netflix. The T-Mobile Live TV app offers bite-sized chunks of mobile video that is streamed over the network. The app was a wee bit slow to load and run, and video quality was choppy.
Extras
Camera
The camera software is a cinch to operate. The camera can be opened via the lock screen or the dedicated camera button. It takes several seconds to open.
Most of the screen is reserved for the viewfinder and the controls are kept to a minimum. There's a strip of controls positioned along the left edge of the viewfinder and include settings, flash, front/back camera switch, and video/camera switch. The flash is either on or off, there's no "auto" setting. The full setting menu allows users to adjust white balance, focus mode, image size and quality, as well as apply some effects before shooting. There aren't any cool shooting modes, such as panorama. Bummer.
The autofocus behaves a bit oddly. When you use the physical shutter button, there is no autofocus. It just shoots an image quickly with focus set to infinity. If you want the autofocus to work, you have to use the software shutter button. The trade off is speed for focus. If you need to shoot immediately, use the physical button. If you want something that looks better, use the software button.
The camera app doesn't offer a review screen, so you have to press the gallery button if you want to look at your pictures.
Gallery
The gallery is the stock Android option. Photo albums float in stacks in the main gallery view, and you can sift through them in the chronological timeline in which they are arranged. It has a neat 3D look and feel to it.
Unfortunately, it supports only the most basic editing functions (crop and rotate). You can, however, easily share photos to the social network of your choice via the standard Android gallery tools.
Photos/Video
Photos
Despite the camera's quirkiness, it delivers good results. I was impressed by the images this little 5-megapixel shooter was able to capture. The flash works really well for indoor shots, so I'd suggest leaving it on when taking shots of your friends or family. Focus was good, exposure good, white balance accurate, and images were free of grain.
Video
Video can be captured in four resolutions: High, Low, MMS, and YouTube. The High and Low settings are capped at 30 minutes, and the MMS setting is capped at 30 seconds. I find these limits to be, well, limiting. The highest quality is 720p HD.
As for the quality, I was mostly impressed. Video captured outdoors looked particularly good, with excellent exposure and focus. White balance was a bit inconsistent and video taken in darker environs often included an unhealthy dose of grain.
Browse/Customze
Browser
The myTouch (Q) runs the stock Android web browser. It's a capable piece of software. T-Mobile also tossed in a permanent shortcut (i.e., you can't delete it) to its web2go home page. The browser works well when paired with T-Mobile's HSPA+ network. Web pages loaded quickly, for the most part, and the software renders mobile-optimized and full HTML web sites depending on your preferences.
Customize
Neither myTouch is as customizable as I'd like it to be. My biggest gripe is with the main app menu, which can only be viewed as a vertical grid. You can't even arrange the icons as you'd like. There's also way too much bloatware that can't be deleted. Toss in the inability to customize the lock screen shortcuts, and you have a frustrated Eric. That said, it's still easy enough to alter wallpapers, ringtones, etc.
Extras
Apps
The myTouch Q is one of the worst offenders when it comes to bloatware. There are 64 apps installed out of the box. That's ridiculous. As usual, some of them can be removed and others cannot. There's a flotilla of T-Mobile branded applications, such as T-Mobile TV, T-Mobile Name ID, T-Mobile Mall, MyAccount, MobileLife Organizer, Highlight, Bonus Apps, and 411 & More. If you don't think 64 apps is enough, feel free to dive into the Android Market.
Bluetooth
Bluetooth worked without issue on the myTouches. Pairing with mono and stereo headsets, as well as PCs and other phones, was a snap. Sound quality of voice calls through mono headsets was OK, though not as good as normal voice quality. Music sounded acceptable through stereo Bluetooth speakers.
Clock
The myTouch offers the same lockscreen clock that most Android phones do. When initially woken from sleep, it shows the time in a larger, digital read out. The time can be gleaned with but a glance.
Genius Button
Instead of offering Google Search as the native search function, the myTouch (Q) carries forward the "Genius Button" concept. Press it, and rather than a simple search box, you get a voice-activated search tool. There are four main categories: Call Someone, Send Message, Search Web, and Navigate. Basically, the app wants you to say the word "Call", then a contact name. Or say "Send", then a name. Or "Search" for something on the web, etc. Once you get the hang of it, it works OK. But if you think this feature can compete with the iPhone 4S's Siri tool or the new Google Now app, it doesn't.
GPS
Google Maps and TeleNav Navigator are both installed on the myTouch (Q). Google Maps is free. TeleNav costs $10 per month to use for the full version. There's also a new "freemium" version offered by TeleNav that has fewer features and is free. All three apps do a fine job at providing directions to and from destinations — though as realized on the myTouch (Q), they run a bit slow and laggy.
Wrap-Up
The Huawei myTouch and myTouch Q are both fine little phones. They don't aim to beat the leaders of the smartphone pack, and are instead gunning to place well in their bracket. They do.
The hardware is conservative and shies away from being flashy. That simply means these phones won't stand out in a crowd. I like the hardware, though I wish the keyboard on the Q were a bit better. Basic features, such as the screen, battery, signal performance and sound quality, were very good, with the exception of the speakerphone.
Every feature I tested on the myTouch and myTouch Q worked as it should without problems. Some of the software is a bit finicky and has odd limitations, but overall the phones get the job done.
Taken as a whole, Huawei did a commendable job with the myTouch and myTouch Q. Perhaps the biggest detractor is the fact that these phones won't be updated to Android 4.0 Ice Cream Sandwich. Sure, that may not matter to first-time smartphone buyers, but for some it could be enough reason to pick another device.
One thing's for certain: with a cost of just $50, the Huawei myTouch and myTouch Q offer a lot of performance for the price.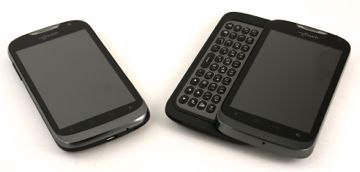 It is what it is, and that's all that it is.
I'm an advanced android user and also tech support for phones, so I was initially concerned when I learned that the new myTouch line was going to be put out by Huawei. This was the company responsible for the Tap and the Comet, so their track record hadn't been the best, but their Springboard tablet was pretty solid, so there was at least a chance for redemption.

After playing with them, I can attest that this is a solid entry level smartphone for the price - enough so that my girlfriend had my blessing when she decided to upgrade her old Samsung Comeback to get her first true smartphone. (As she is on a Value plan, she paid the full cost up front, which is $350. Had she not insisted on a physical keyboard I would have steered her toward...
(continues)
wdfichtel said:
I'm an advanced android user and also tech support for phones, so I was initially concerned when I learned that the new myTouch line was going to be put out by Huawei. This was the company responsible for the Tap an
...
(continues)