Panasonic Launches 9 New Phones
Article Comments 2
Feb 14, 2005, 7:21 AM by (staff)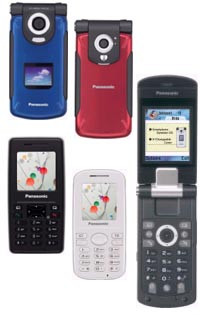 In a show of force, Panasonic announced 8 new feature phones and a Series 60 smartphone. Most models feature a 1.3 or 2 Megapixel camera and are clamshell style. The VS series are slim clamshell phones - the VS7 has a 2 MP camera with a push button flip, the VS3 has a 1.3 MP camera and changeable covers. The MX series have long battery life - the MX7 has a 2 MP camera and the MX6 has a 1.3 MP sensor. The SA series has similar specs to the MX model, but feature a ruggedized, sporty shell. The SC3 is Panasonic's fashion phone, featuring a VGA camera, and the A210 is a minimalist model weighing only 68 g. Finally, the X800 is Panasonic's slimmed down update to the X700 Series 60 smartphone. It features a megapixel camera and MiniSD slot but is only 17 mm thick.
more info at Panasonic »
more info at Panasonic »
Hooray!
😁 I don't want to get my hopes up, but man I hope Cingular will pick up some Panasonic phones.