Review: HTC Droid Incredible 4G LTE for Verizon Wireless
Form Basics Extras Wrap-Up Comments
Is It Your Type? Body The Three S's
Jul 3, 2012, 2:58 PM by Eric M. Zeman @zeman_e
updated Jul 6, 2012, 1:23 PM
HTC's third take on the Incredible goes for the triple 4s: It adds 4G, Android 4.0, and Sense 4.0. The Incredible 4G LTE also fills a much-neglected spot in Verizon's smartphone lineup. Here is Phone Scoop's full report on this compact concoction from HTC. Updated with additional signal and battery tests.
AD article continues below...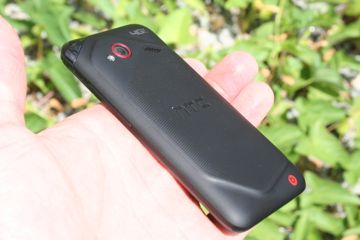 HTC's venerable "Droid Incredible" line for Verizon Wireless has done very well over the last two years. Rather than sell its own variant of the excellent HTC One series, Verizon stuck to its Droid guns and instead offers the Incredible 4G LTE. This compact smartphone is more portable than today's flagship devices, but it offers many of the same features. See if small is the way to go in Phone Scoop's full review.
No messages