BenQ Rolls Out Windows Mobile PDA Phone
Article Comments 15
Jan 6, 2005, 11:40 AM by (staff)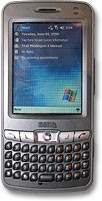 BenQ today announced the P50, a powerful new PDA phone running Windows Mobile 2003 Second Edition for Pocket PC. The P50 is a quad-band GSM device with a QVGA touch-screen, Bluetooth, Wi-Fi, a 1.3 megapixel camera, and a QWERTY keyboard. The device is powered by a 416 MHz Intel PXA270 processor, with 64 MB of RAM and 64 MB of ROM, plus an SD card slot for additional memory. The P50 is expected to be available in Asia around March/April, and in the U.S. around June/July.
source: BenQ
Any obvious advantages over the "Blue Angel"? (Siemens SX66, etc, etc, etc)
Any obvious advantages/disadvantages over the existing "Blue Angel" (which is really designed by HTC, but distrubited under at least 300 different names and makers)?

I havn't tried compared dimensions & weight or claimed battery life.
Bluetooth version may be different too and of course CPU & memories.

But the core functionality seems the same to me...
1st True attempted at a single handed PPC Phone
Looks like a first run at a true single handed PPC Phone (IMHO - the others have failed), however PPC2003 with 3rd party apps doesn't have real support for single handed operation. Too much dependency on the stylus.

I'm a PPC lover, I've owned 3 models by HP, but after playing with the treo 650 in the store for an hour, i decided to go with PalmOne. WOW.. I love the 650, everything about it is awesome.

I think I'll wait until the PPC 2005 OS is released.
Monster of a phone
This phone looks like it could take over the market.
It has everything including Bluetooth, Wi-Fi and a 1.3 megapixel camera.

Does it have Video capture?

The bigger question is: Is it coming to T-Mobile?

The specs say that it is a GSM phone.

Thanks.
It doesn't even have EDGE support! bah.
you think verizon will be getting this phone?
Cingular in The only real company! Did you know that Cingular covers 95% of the country's high density area, and Verizon only covers 74%, Oh and T-Mobile, They aren't even comparable! 🤣 If you wanna debate E-Mail me! Gac0618@aol.com
I wonder if I can load Starfire Assistant on it? Once you can do THAT, then you're golden!
lama
Too bad it's not Palm based.
based on the failure rate of the treo 600's that doesnt seem to be a bad thing. not that windows is a poster child for OS stability.
The Palm OS is disgusting compared to Pocket PC! Pocket PC is the best! And it does MORE! Oh and if you want any cheap faceplates, go to www.cellphonestylists.co.nr
I'm drooling...
That's all...

~Steve

(The QVGA display is the icing on the cake - pretty)