Motorola Goes High-Speed With New Phones
Article Comments 37
Jan 6, 2005, 10:56 AM by (staff)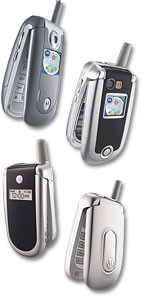 Motorola this week revealed a slew of new phones for the global and U.S. markets, including EV-DO and EDGE handsets:
E815: Update to V710 (CDMA), adding EV-DO, video-on-demand, 40 MB of internal memory, improved camera and keypad, and new silver styling.
V635: Update to the V600/V620 (GSM), adding a megapixel camera, TransFlash memory card slot, class 4 EDGE, and a color external display.
V186: Update to V180 (GSM), adding EDGE high-speed data for use with laptops via USB.
V171: Entry-level, clamshell dual-band GSM phone with color display and instant messaging.
C381p: Entry-level, bar-style tri-band GSM phone with PTT (push-to-talk). Features a color display, speakerphone, and MP3 ringtones.
C698p: Mid-range, bar-style tri-band GSM phone with PTT (push-to-talk). Features a large color display, VGA camera with LED flash, and speakerphone. Currently planned for Latin America only.
E375: Bar-style tri-band GSM phone with large color display and VGA camera. Currently planned for Asia only.
i605: Bar-style iDEN phone with large color display and Bluetooth.
i930: Clamshell iDEN phone with Windows Mobile Smartphone, tri-band GSM, dual color displays, camera with LED flash, speakerphone, and SD card slot.
The company also announced several new Bluetooth accessories, including a Burton snowboarding jacket with iPod interface, a snowboarding helmet, snow beanie, and standalone headphones. All include stereo Bluetooth.
V635..why the memory card?
i dont get it. ths phone cant play mp3's etc. so whats the point of the memory card? to hold a thousand names/numbers?, to hold 500 vga pics?. i dont get it. its not a smart phone with dozens of apps available. so whats the purpose of the expansion card?.
It's actually a megapixel camera, and it does video capture, too, so there's a lot you could potentially store on there.

Also, it only has 5 MB of internal memory, which is next to nothing for a megapixel phone.

I think it might do MP3, too, but...
(continues)
What are you talking about? The Motorola v635 does have an mp3 player....Why else would it have expansion besides video and pics?
V635
Does anyone know if the V635 is coming to T-Mobile as well as Cingular?

The specifics said that the V635 is going to have EDGE, so I am assuming that it is a Cingular phone.

Thanks.
Having EDGE, I'd assume it's only coming to Cingular. T Mobile is light years away from rolling out with EDGE, I dont see why'd they try to market and sell phones with EDGE.
🙂 Thats not true, Cingular as of now has EDGE, but in a few months T-Mobile will launch EDGE. If you look at the Freqencies for the V635 it has 900/1800/1900 MHz on it. Cingular doesn't use 900, they use 850MHz. If Cingular gets that phone, it wil...
(continues)
i930? More info?
Any other deets or links to info on the i930? Pics? FCC Approval? Hook us up! I know it's not as hot as the others metnioned in terms of EDGE, etc., but its all some of us contracted nextel subs have to look forward to in the next few months other than the sprint-nextel hub bub.

Nice coverage by the way. I'm always reloading here and engadget for updates on CES. It's like I'm there!
when?
when will the motorola e815 be coming out? and will it be for verizon?
Bluetooth Adapters For Motorola Phones DON"T WORK! Don't waste $40
NEVER buy a bluetooth adapter for a motorola phone! THEY DON'T WORK! I found mine at Radio Shack! And i sold them at my store, until i tried it for myself! They are horrible! Just get a bluetooth phone! If you can't afford them, the SAVE!
THE NEW E815
I have the NEW Acura TL with bluetooth, and the V710 had a few bluetooth problems, i'm hoping the E815 doesn't! Oh and NEVER buy a bluetooth adapter for a motorola phone! THEY DON'T WORK!
E815 for VZW?
It says its an update to the V710...anyone see any pictures?