Review: HTC EVO 4G LTE for Sprint
Form Basics Extras Video Wrap-Up Comments 24
Is It Your Type? Body The Three S's
May 14, 2012, 5:24 PM by Eric M. Zeman @zeman_e
The HTC EVO 4G LTE carries the EVO brand forward for Sprint, and makes the huge jump from WiMax to LTE for 4G tech. Phone Scoop's full report details what's great and not-so-great about the EVO 4G LTE.
AD article continues below...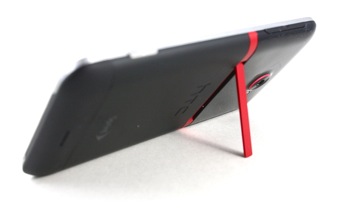 The HTC EVO 4G LTE is Sprint's version of the HTC One X. The EVO differs a lot from the other versions on the outside but only a little bit on the inside, and this is one instance where the real beauty lies on the inside. The EVO 4G LTE will be the King Kong super phone for Sprint throughout 2012 — but only after Sprint's planned LTE 4G network gets off the ground. Until LTE launches, the EVO is just another 3G smartphone.
The "one" major hardware advantage???
You mention "The one major hardware advantage the EVO has over other One X variants is the dedicated camera button." However, I would posit that in addition to the hardware camera shutter button, the presence of a microSD card slot, the larger 2000 mAh battery and last but not least the kickstand are no so minor hardware advantages.
Say It's Not So.
It appears the wrap-up section was a little rough on the beaver.

As an original Evo owner since day one, I have not been more happier with a phone. It has performed excellently and kept up with the Jones' for the last two years. However, time has taken a toll on the charging port and I need to retire the old girl. I have waited for HTC's new offering of the HTC LTE.

I'm sorry Eric, but I am taken back by your review. It appears you're more angry at Sprint's 3G network and lack of LTE and have indirectly taken it out on the device by telling people to wait. I am sure many others are in a similar position as myself of hardware issues that have been waiting.

I didn't have WiMAX when the Evo came out and I will not have LTE as this ne...
(continues)
I'm in the same boat as you John and I too will be upgrading to this phone when it comes out. I have the Galaxy S 4G with Verizon for work and have decided to past on the Galaxy S 3 with Sprint for this phone. I enjoyed my Evo to much to pass up on th...
(continues)
It's not Eric's fault Sprint's 3G sucks. What do you want him to do, lie to the consumer like Sprint reps (mostly authorized dealers to be fair) by telling potential customers that they have sufficent amount coverage in their neighborhood when they ac...
(continues)
John - Thanks for your comments. Perhaps I didn't make my point clearly enough in the wrap-up.

Yes, the mobile broadband speeds are outright pathetic, and that's Sprint's fault, not HTC's. The point I was trying to make is that for some users, fas...
(continues)
It's mind boggling...
how a carrier can release and promote LTE phones without having an LTE network! 🙄 Nice phone though but I read it has radio problems already which is affecting battery life and Sprint's 3G is more like 1X these days
Your right about the 1X, that's because they are currently upgrading to 1x Advanced. The LG Viper is Sprints first LTE phone.
Not sure if your aware but whenever someone buys a phone they are under a 2 year contract. I would be pretty upset if they were rolling out the LTE when I was eligible for upgrade and I couldn't get a phone that would run on the soon to be nationwide...
(continues)
Why is it mind-boggling?

The LTE network rollout - like any new cellular network - is a massive undertaking that takes time. They're actually moving pretty quickly with it, assuming they stick to the schedule.

If they phones are ready now, why n...
(continues)
HD Voice
The article mentions that the Evo 4G LTE requires LTE in order for HD Voice to work. Everything that I've read seems to say the exact opposite, that HD Voice has absolutely nothing to do with LTE, but rather 1x Advanced.
Error has been corrected.
It requires 1x Advanced, but that is being rolled out at the same time as LTE, as part of the same wave of network upgrades.
What's funny is….
My average (3G/HSDPA+) download speed on AT&T in the New York Metropolitan area is: 16 Kbps.
About what I was getting with Sprint in Phoenix...also funny. So I paid the early termination fee, switched to AT&T for the One X and LTE, and now averaging 20-30 mps or faster. Couldn't be happier. My advice...switch to whatever works in your are...
(continues)