Review: HTC One S for T-Mobile
Form Basics Extras Video Wrap-Up Comments 1
Is It Your Type? Body The Three S's
Apr 19, 2012, 2:23 PM by Eric M. Zeman
updated Apr 19, 2012, 2:24 PM
HTC's One S for T-Mobile is an easy phone to recommend for anyone who loves Android, speed, and solid performance from their smartphone. Does it have any faults? We managed to find a couple.
Advertisements article continues below...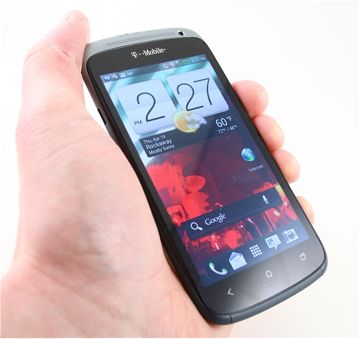 The One S for T-Mobile USA is part of a trio of high-profile "One" devices being launched by HTC this year. The One S doesn't bear the bleeding-edge specs that the One X does, but it's still one of the best buys from T-Mobile. If you're looking for a sexy handset that's as fast as it is thin, the One S should be on your short list. Here's why.
One S or Galaxy S3
I've got a few more months till my 2-year T-Mobile G2 contract ends, and then I'll be making a change to either the One S or Galaxy S3. My main reason for the change is that I'm very dissapointed in the G2's camera which aside from taking horrible low-light pictures (courtesy of a F3.53 focal length) and also a glitch in either hardware or software where the left side of the pictures come out blurry.

I'm finding myself carrying my phone everywhere I go, and I want a phone that I can take clean shots without resorting to my larger Nikon P300 or much larger Nikon D80. So we will see what the next few months have in stock.

My ideal phone would be a One S with a keyboard, to perhaps be branded as a T-Mobile G3. But one could only hope.....
(continues)