Review: LG Lucid for Verizon Wireless
Form Basics Extras Wrap-Up Comments 2
Is It Your Type? Body The Three S's
Apr 10, 2012, 11:33 AM by Eric M. Zeman
The LG Lucid offers a 4-inch screen and 4G in a compact body. This little phone may be small in stature and a bit short on looks, but it's big on features and even bigger on functionality. Read Phone Scoop's review to get the real skinny.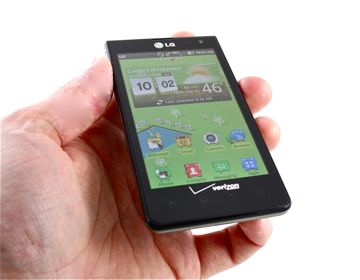 If you're in the market for an inexpensive Android phone that can latch onto Verizon Wireless's LTE 4G network, a device such as the LG Lucid may fit the bill. Despite its $80 price point, it still manages to include a quality display, speedy performance, and of course blazing quick mobile broadband.
Good review, one detail was wrong though
"The Lucid can shoot video up to 720p HD."

It actually captures up to 1080p.

Otherwise spot on review. I own this phone, and being my first smartphone, I am rather pleased with it. Sure, it's not an Uberphone, but it's not meant to be. it's meant to be a value minded first phone. It excels at that.
wow
cool phone but they just look teh same. feature wise..