Review: Samsung Galaxy S Blaze 4G for T-Mobile
Article Comments
Mar 22, 2012, 11:11 AM by Eric M. Zeman
Samsung's Blaze 4G for T-Mobile USA boasts a speedy radio and speedy processor, but wraps them up in a device that's markedly smaller than Samsung's other flagship gear. Does the Blaze prove that sometimes smaller devices can be successful?
Body
Is It Your Type?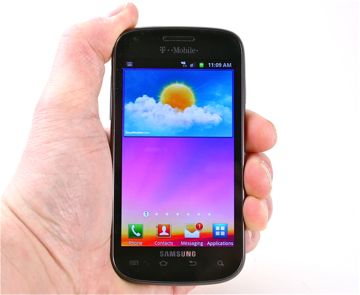 Samsung's umpteeth variant of its Galaxy smartphone line doesn't aim as high as previous efforts, though it provides enough oomph in the right places to make it worth consideration. If smaller, more refined smartphones are your thing, the Blaze 4G might set fire to your heart.
Body
The Samsung Galaxy S Blaze 4G shoots for the middle of the smartphone market. It doesn't have the largest screen, the neatest features, or the flagship appeal that some of Samsung's devices have, but it manages to find a niche all its own.
The Blaze is the most BlackBerry-esque smartphone I've seen come from any company other than RIM. From either side, or from the back, it looks identical to RIM's larger Bold-branded smartphones. I assure you, the Blaze 4G is no BlackBerry, but dang if it doesn't look like one. It's mostly black, with some shiny charcoal tones tossed in to break things up a bit.
Thanks in part to the Blaze's four-inch display, the overall footprint of the device is significantly smaller than, say, the Galaxy Note or Galaxy Nexus. It's a comfortable, average size that makes it easy to grab and hold onto. It has a dense and solid feel to it that gives it presence and authority when gripped.
The materials are plastics and glass and are of good quality. Nothing about the Blaze feels cheap or hastily designed. The battery cover has a great tactile feel thanks to its soft-touch texture. The smooth front surface and the grippy back surface make for a pleasing juxtaposition.
As with most Android smartphones, the front of the Blaze is all display. The T-Mobile and Samsung logos (above and below the display, respectively) are shiny, reflective and about the only things you can see on the front of the phone when the display is off. The normal Android controls are placed along the bottom edge in capacitive form. I found them easy to use, and I liked the amount of haptic feedback they produce when pressed.
The volume toggle is on the left edge of the phone. It's easy to find, but I wish it had physical markings (whether it be a nub, or ridges, or whatever) that made it easier to tell which toggle you're pressing. Instead, it's a smooth piece of plastic. It offers plenty of travel and feedback, but the noise it makes is a bit too "clacky" for me.
As is typical for a Samsung device, the lock button is on the right edge. This button is not the best. It is too flush with the side of the phone, making it difficult to find. Worse, this is one of those buttons that needs to be pressed too deeply into the handset. Bottom line: it's too much work for such a vital button.
The microSD card slot is buried in the side, too, just below the power/lock button. It is covered by a little hatch that isn't much effort to remove. The microUSB port is tucked on the bottom edge of the Blaze, and the 3.5mm headset jack on the top edge. The battery cover comes off with little effort. The SIM card is accessible without removing the battery, which is a pleasant surprise.
The Three S's
Screen
The Blaze has a 4.0-inch display with 800 x 480 pixels, and uses Samsung's Super AMOLED technology. It's not knock-you-over-the-head impressive, but it is a fine display that is more than adequate for this class of device. It's plenty bright, but I was able to see more individual pixels than I'd like.
Signal
The Blaze maintained a strong connection to T-Mobile's network no matter where I took it. In both strong and weak coverage areas, it remained connected and able to make calls and surf the web. During my tests, the Blaze never dropped a call, never missed a call, and always connected calls on the first attempt. Though data always worked, it was noticeably slower in areas with poor coverage. When a good HSPA+ signal was available, man, the Blaze was, well, blazing fast, as it is capable of (theoretical) download speeds of 42Mbps.
Sound
The Blaze is a decent — but not great — voice phone. The quality of calls was quite good. I found them to be clear of noise, and pleasing in tone. The earpiece volume isn't all that good, however. It's fine for quieter environments, but if you're anywhere near a significant source of noise (urban traffic, coffee shop, kids) you're not going to hear conversations all that well. Call quality deteriorates a little bit when routed to the speakerphone, but volume nose-dives further. It's simply not loud enough. Ringtones and alerts are hindered by the same weak powers as the speakerphone. They're not loud enough to overcome moderate background noise. The vibrate alert is excellent.
Battery
The Blaze's battery does pretty well. It makes it through an entire day with no problem, and that's about all I really need from a smartphone these days. There was consistently enough battery power left so that I wasn't worried about running out before bedtime. You're safe from 7AM to 11PM, no doubt, and probably until the next morning, but not much beyond that.
Basics
Menus
The Blaze comes with the latest version of Samsung's TouchWiz installed on Android 2.3.6. (Yes, really, no Ice Cream Sandwich yet.) In daily use, it feels and functions exactly as other Samsung handsets with this combo.
There are seven home screens on the Blaze. One of the features of Samsung phones that I like is that when you get to the home screen panel furthest to the left or right, you're not stuck cycling back in the direction you came. You can just keep circling through all seven panels without stopping.
The main app folder is laid out in an alphabetical grid by default. The grids each hold up to 16 apps and are accessed by sliding the screen left or right. You can choose to rearrange the grid however you like, as well as view the apps in a single list.
There are a significant number of widgets available that can be used to litter the home screen. There aren't any cool lock-screen shortcuts, but at least the notification shade includes access to switch on/off the device's various radios.
On the performance side of the coin, the Blaze's Snapdragon S3 processor, a dual-core job at 1.5GHz per core, ran just fine. It was speedy throughout the user interface and applications. I didn't see any part of the phone's software suffer from jitters or lagging.
Calls/Contacts
The calling and contacts applications on the Blaze don't appear to make any significant changes over previous Samsung Android phones. The features work identically to most recent phones we've seen from Samsung. The software dialpad pops up when the phone button is pressed. From there, it's easy to access the call log, favorites, and the main contact list.
The Blaze includes the Samsung Buddies Now home screen widget. It lets you populate home screen panels with links to up to nine buddies. If you want to look at a buddy's entire contact card, simply press their face and you'll be taken into the contact application. This app can be used instead of setting a handful of contact shortcuts to the home screen.
Messaging
The stock Android messaging tools are on board and cover the basics. The SMS application remains simple yet powerful. Messages are threaded in a conversational style, and media (photos, video, audio) fall in-line with the text. The usual two Android email applications are also present. There's the generic email app for POP3/IMAP4 and Exchange, as well as the native Gmail application. There's also a third, T-Mobile-branded email app for use with internet email services if you want to use something other than the Google-made apps.
On the instant messaging side of the equation, the stock Google Talk application is on board for Google IM users. Samsung's Social Hub is on board, which lets owners manage nearly everything — email, SMS, Facebook, IM, Twitter, even calendar — from a single portal. Social Hub supports Windows Live and Yahoo IM messaging services, but not AIM. The Hub can be your one-stop-shop for managing myriad communications. It is a convenient tool if you prefer to skim through messages rather than really dive into them. For example, it is easy to jump from Facebook to Twitter to email to SMS and back without having to actually switch applications.
Speaking of which, Facebook and Twitter aren't pre-installed, so you'll have to download them yourself.
Other social network-y type apps/services on board include Google Latitude, but not Google+. Qik's video chat application is also on board, which lets you conduct real-time, two-way video chats with other users of the Qik application.
Extras
Media
Music
The Blaze offers both the new(er) Google Music application and the older stock media player. The media player is a generic piece of software that can be used to access and playback media stored on the device. The Google Music application lets you stream your library from Google's servers over the network. It also lets you purchase music from the newly christened Google Play Store.
Music can be played back through attached headphones, or sent via Bluetooth to properly-equipped Bluetooth devices. Sound quality of music playback was quite good through both.
Slacker is the only streaming service preinstalled, but obviously Google Play (formerly Android Market) is chock full of alternatives.
Video
As far as video goes, the Blaze has the stock Android video player, YouTube, T-Mobile TV, Netflix, and the Google Play application on board for renting or buying movies. The Blaze easily handled video content that I side-loaded, and it worked well for viewing most video content that I could find.
Media Hub
The Blaze also comes with Samsung's Media Hub. Users can access the Media Hub to download movies and television shows, but not music. Rental fees and sale prices vary by title. It basically dupes the functionality of Google Play.
AllShare is on board for those who like to share their multimedia files with DLNA-compatible devices, such as HDTVs.
Camera
Camera
The Blaze doesn't introduce any new features or functions to the tried-and-true camera software from Samsung. The viewfinder window has controls running down both sides. On the left, users can switch to the front camera, set the flash, or dive into a fuller settings menu. You can also choose to set your own shortcuts in this space, which means faster access to the tools you want. On the right, you can access the camcorder and the gallery.
The full camera settings menu is extensive and lets advanced users adjust nearly every facet of the camera and picture-taking experience. Exposure, scene, metering, ISO, and more can all be tweaked. "Shooting Mode" lets you pick from smile shot, panorama, action shot, and cartoon. Scenes adjust for lighting, and can be set for dawn, candlelight, beach, snow, and so on.
The Blaze includes touch-to-focus, and will lock onto anything you want in the viewfinder. Focusing is fast, but you still have to push the actual shutter button to take a picture.
There are two weak spots with the Blaze's camera, in my opinion. First, the camera is a bit slow to capture and store images before returning to the viewfinder. It's not terrible, but it could definitely be faster. Also, there's no physical camera button, which is an unfortunate trend on Samsung's devices.
Gallery
The Blaze makes use of the stock Android 2.3 photo gallery software. Images are stored in floating stacks based on date. The view of the gallery can also be switched to a more linear timeline if you so choose.
The gallery is also excellent when it comes to editing photos. It supports a wide range of tools for adjusting images after the fact (effects, color, brightness, fine-tuned selector tool, crop, rotate, etc.), and makes sharing images through MMS, email, social networks a breeze.
Photos/Video
Photos
The Blaze may be limited to a 5-megapixel camera, but it does quite a good job. I was pleased with the majority of shots I took, which were in focus, exposed correctly, and showed accurate colors. There's slightly more grain found on images taken indoors, but the bright flash will help offset the grain a bit if you use it. The Blaze can easily replace a point-and-shoot camera.
Video
The video camera maxes out at 720p HD video. I thought the results were very good. The footage I captured didn't have that overly harsh characteristic I sometimes see on 1080p video: it was smooth, focus was good, and panning the camera about didn't make me sick to my stomach. I wouldn't recommend you use it to record your cousin's wedding or your kid's graduation, but for everyday video needs it's a good alternative to dedicated video equipment.
Browse/Customize
Browser
The Blaze comes with the stock Android browser. With the capable processor and 42Mbps HSPA+ on board, the Blaze is a solid browsing device. When under strong T-Mobile coverage, browsing sessions were a joy. Web pages loaded in the blink of an eye under HSPA+ coverage. Even in areas where the Blaze fell back to 21Mbps, surfing was speedy and satisfying.
Customize
With seven home screen panels and apps and widgets galore, you have a vast canvas on which to personalize the Blaze and make it your own. I only wish there were some user-customizable lock screen shortcuts.
Extras
Apps
The Blaze is not wanting for apps; there are plenty preinstalled for you to try, delete, or try to delete. The two biggest stand-outs are Game Base and Tags. Game Base is a T-Mobile-run gaming service that lets users rent or buy games. The selection ranges from Angry Birds to Cut the Rope, to Twilight, Tetris, and Solitaire. Purchases are billed to your T-Mobile account. Tags uses the Blaze's near-field communications chip to read NFC tags. Neat! But it comes with no tags, and no information on where to find and use tags. In other words, the Blaze supports NFC-based actions, but it's up to you to discover them out in the world.
Bluetooth
Bluetooth works as expected on the Blaze. I had no trouble connecting it to other devices, but phone calls were pretty much useless through mono headsets. The quality was fine, but even with the phone and the headset turned all the way up, conversations were difficult to hear. The only place it worked was in my car, where I could really crank up the volume. Music sent to stereo Bluetooth headphones sounded excellent and was free of problems.
Clock
The lock screen clock behaves just as on other Samsung TouchWiz phones. It's placed at the bottom of the lock screen in large, white numbers. As I've opined before, I wish the font were thicker or bolder to make the time stand out against the background better. Indoors you'll have no problem reading it, but it's hard to check the time outside.
GPS
The Blaze ships with Google Maps and TeleNav's navigation service. Both are capable applications for searching maps and planning routes. The TeleNav service offers a free service with basic navigation tools, and a premium service that adds features such as real-time traffic, speed limit alerts, and lane assistance. The free version works great for managing traveled routes, but is sparse on the options. The Blaze's GPS performance was excellent, and the device was typically able to pinpoint my location to within 10 feet.
Wrap-Up
The Samsung Galaxy Blaze 4G is a really solid effort from the Korean smartphone maker. As previously mentioned, it doesn't aim all that high, but it hits the mark where it counts. Aside from perhaps the weak earpiece and speakerphone, there's almost nothing about the device that falls short.
The hardware is a great compromise in terms of screen size vs. usability. It connects well to T-Mobile's network and runs for at least a day. The system software is flexible and leaves plenty of room for personalization. It has plenty of power and speed, and media apps all do a solid job of keeping you entertained when you're not busy scheduling soccer games and happy hours.
In a world full of smartphone extremes, the Blaze strikes a good balance, and in so doing, finds an identity all its own.
No messages