Nokia Announces New Color Phones
Article Comments
Nov 4, 2002, 10:24 AM by (staff)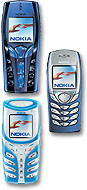 Nokia today introduced six new phones, five with high-quality color displays, Java™ and MMS support across all major categories. Three of the phones are tri-band GSM models:
7250: Integrated camera, stereo FM radio. Optional Music Stand. Available globally 1st quarter 2003.
6100: Smallest Nokia phone ever. Optional camera, polyphonic ringtones, speakerphone. Available late 2002 in Europe; 1st quarter 2003 in the Americas.
5100: Speakerphone, integrated flashlight, stereo FM radio, sound meter, thermometer. Available globally 1st quarter 2003.
Nokia also unveiled three new dual-band phones for Europe and Asia, including the 6800 phone with flip-out full keyboard, 8910i premium phone, and 2100 entry-level phone. Nokia also announced the Nokia N-Gage™, a Symbian-based mobile game device.
No messages