Samsung Galaxy S20 FE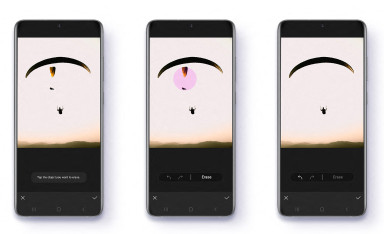 Samsung today announced the availability of its One UI 3.1 software update, which brings select software features of the new Galaxy S21 series to most higher-end Galaxy phones from 2020 and 2019. New features include an improved "Single Take" camera mode, which captures a variety of still and video formats simultaneously. It also brings Object Eraser (shown), an intelligent photo editing tool to cut out unwanted parts of photos. "If you want to edit out distracting objects, simply tap the area you wish to remove and it will be automatically selected and deleted." Other new features include Private Share, to control who is allowed access to the content you send and how long it is available, and Eye Comfort Shield, which automatically adjusts the display's blue light output based on the time of day. Finally, there's Multi Mic Recording, which, when in Pro Video mode, allows you to simultaneously record audio through both your phone and a connected Bluetooth. The One UI 3.1 update is available starting today for the following Galaxy phones: S20 series, Note20 series, Z Fold2, Z Flip, S10, Note10, Fold, A71, A51, A90, A80, A70, and A50. All of those phones will receive the new Single Take, Object Eraser, Private Share, and Eye Comfort Shield features. Multi-Mic Recording will only be available on 2020 flagship phones: Galaxy S20 series, S20 FE, Note20 series, Z Fold2, and Z Flip 5G.
---
---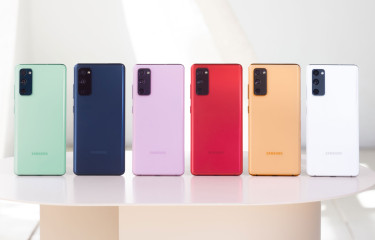 Samsung has a new, more affordable Galaxy S20 phone that starts at $699 while keeping the S20 specs and features that Samsung says surveyed users cared about most. The Samsung Galaxy S20 Fan Edition (abbreviated "FE") keeps flagship-level specs in many areas. This includes Qualcomm's flagship Snapdragon 865 chipset, large (6.5") AMOLED display with 120 Hz refresh, 25W wired charging, 15W wireless charging, reverse wireless charging, LPDDR5 RAM, DeX, memory card slot, IP68 dust and water rating, and a metal frame. It also has triple rear cameras (12 megapixel main, 12 megapixel wide, and 8 megapixel tele), 32 megapixel selfie camera, NFC, in-display optical fingerprint reader, and Samsung's latest advanced camera features such as Single Take and Space Zoom (30x). Most US carriers will offer three color options: Cloud Mint, Cloud Navy, and Cloud Lavender. Verizon will also offer a Cloud Red option. The unlocked version from samsung.com will come in those four colors plus Cloud Orange and Cloud White. Most US carriers are expected to offer the Galaxy S20 FE. Most versions will only support sub-6 GHz 5G, but a version that also supports mmWave 5G will be available from Verizon for $750, ($700 after $50 instant discount when choosing a two-year payment plan and either: adding a new line, or upgrading while on a premium Unlimited plan). While the 6.5" screen and 4,500 battery are closer to the $1200 S20+, the S20 FE naturally makes a few compromises compared to the $1000 S20 to achieve its low price: less RAM at 6 GB, a full-HD screen that's perfectly flat, no 8K video capture, and a polycarbonate back instead of glass. Pre-orders start today and include a $70 credit (for accessories, for example) on samsung.com. The Samsung Galaxy S20 Fan Edition ships on October 2nd.
---
Recent listings in the public Bluetooth database show approvals for an unannounced Samsung phone called the "Galaxy S20 FE 5G" or "Galaxy S20 FE UW". We assume that "FE" stands for "Fan Edition", a model name modifier Samsung used recently in the Note series. The model numbers in the database indicate versions for every major US carrier, with variants such as "SM-G781V ... for VZW", "SM-G781U ... for ATT", and "SM-G781U ... for TMB". The Bluetooth approvals reveal little else, except that the phones will offer Bluetooth version 5.0.
---