Google Pixel 5
Google has announced that a final version of Android 13 is available starting today for recent Pixel devices (Pixel 4 and newer). Version 13 doesn't bring huge changes, but rather a long list of small improvements, primarily around privacy and visual personalization. Public beta versions have been available for a few months. The final release will roll out for newer third-party phones over the next few months.
---
Owners of Google Pixel phones will soon be able to perform common repairs themselves using genuine parts from Google. The move comes hot on the heels of a similar announcement from Samsung just last week. Similar to Samsung, Google is partnering with iFixit, which will sell the repair kits (including necessary tools) as well as individual parts. The program includes all Pixel phones starting with the Pixel 2, and "things like batteries, replacement displays, cameras and more". The program launches "later this year". Apple launched a similar program in November.
---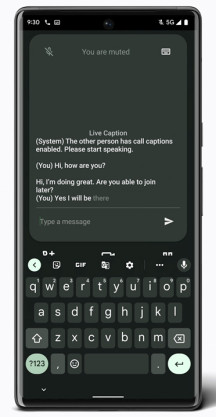 Google has started rolling out a new update for most of its Pixel phones that adds new features. One standout new feature is an enhanced Live Caption function for voice calls. Now it will not only display captions for what the other person is saying, but also let you respond by typing, or by tapping a suggested response. The phone will then speak the response so the other person can hear it. The button to activate Live Caption mode appears after pressing the volume button during a voice call. The update also brings existing features to additional Pixel models. Direct My Call and Wait Times will now be available on the Pixel 3a and newer. This month's update is rolling out now for Pixel 3a and newer, except for the Pixel 6 series, which will roll out later this month.
---
Google Fi today launched 5G phones and 5G service, now that Google has launched its own 5G Pixel phones. Google Fi will include 5G service with all plans at no extra charge. They are offering the Pixel 5 and Pixel 4a 5G, as well as the Samsung Galaxy Note20, Note20 Ultra, S20, S20+, S20 Ultra, and A71 5G.
---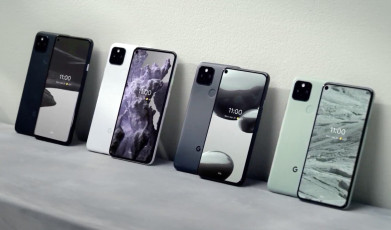 Google today announced its 5G Pixel phones for 2020: the Pixel 5 and "Pixel 4a (5G)". The confusingly-named Pixel 4a (5G) actually has more in common with the Pixel 5 than with the Pixel 4a. Both have a large OLED display (6–6.2 inches) with HDR, large battery (roughly 4,000 mAh), the exact same high-quality camera arrays, Titan M security chip, and are powered by a Qualcomm Snapdragon 765G chip. The key differences are that the Pixel 5 has wireless (and reverse wireless) charging, water resistance, aluminum (vs. polycarbonate) body, and 8 GB RAM instead of 6. However only the Pixel 4a (5G) has a 3.5mm headset jack. The new Pixels include several new camera features. Night Sight in Portrait Mode lets you take portrait shots with blurred backgrounds even in very low light. Portrait Light lets you simulate a studio light and position it anywhere relative to your subject. That feature can also be applied to existing photos in Google Photos. Video mode now lets you choose from three different stabilization modes, including a new Cinematic Pan mode. The main camera is the same 12-megapixel sensor with f/1.7 aperture that Google has used in Pixel phones for the past year. The two new 5G models also have a 16-megapixel ultra-wide camera, a departure from the Pixel 4 which had a telephoto camera instead. A new Hold for Me feature lets you assign Google Assistant to monitor a call on hold and alert you when a person is on the line. Extreme Battery Saver lets you pick which apps are essential and shuts down everything else to prolong battery life up to two days. Hold for Me and Extreme Battery Saver will come older Pixel phones via software update. Google has also improved its Recorder app, which records audio while transcribing it to text, even offline. Now, you can crop and remove sections of audio by simply editing the text. The Pixel 5 will be available unlocked in mint or black starting October 15th for $699. Pre-orders are open now. It will also come to Verizon with mmWave 5G for the same price, at a later date. The Pixel 4a (5G) will be available unlocked in November for $499, in black or white. Verizon will sell a version with mmWave 5G for $600, and will start taking pre-orders for that version October 29th.
---
Google is launching Android 11 today, having completed the beta period. The new OS will begin rolling out today on select Pixel and OnePlus phones, with more partners launching and upgrading devices over the coming months. Key features of Android 11 include:
New treatment for "conversation"-related notifications from messaging apps, including a dedicated area in the Notifications shade, and Bubbles, which lets you briefly view a conversation thread as a pop-up overlay, without leaving the app you're in.
Privacy improvements, including the ability to grant apps one-time access to sensitive permissions, an "auto-reset" of permissions for apps that haven't been used in a while, and an extra steps required to enable background access to location. Google will also start requiring that developers obtain explicit permission from Google before their app is allowed to ask for background access to location.
A revamped screen when the lock button is pressed provides quick access to smart-home device controls.
Support for digital IDs, including digital driver's licenses.
Support for wireless Android Auto on all phones.
New media controls that make it easier to switch output device.
New screenshot tools, including built-in screen recording on all phones. On Pixel phones, Android 11 brings a new feature when taking a screenshot that lets you easily copy an image or text to the clipboard instead.
For phones linked to a company network, the personal/work Profiles features has several improvements. New Personal/Work tabs have been added to several places including the Share pop-up sheet. A new API available to apps will allow certain apps to present both work and personal data together, while protecting both company data and employee privacy. Google Calendar will support this feature, and third-party apps will be able to support it as well.
New APIs allowing apps to better support new display technologies, including "waterfall" displays that wrap around the side, and variable refresh rates.
Further, on Google Pixel phones, Android 11 brings a new feature called Live View with Location Sharing. When someone sends you their location, the feature uses AR to show you exactly where that person is in the real world, how far away they are, and can guide you to them, even in parks or the wilderness.
---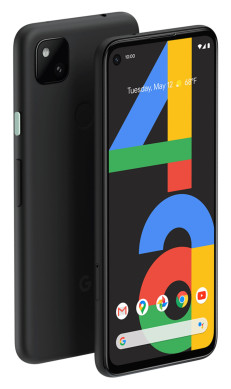 The newest affordable Pixel phone from Google is the Pixel 4a, which starts at $349, making it the most affordable Pixel phone ever. (The Pixel 3a started at $399 at launch.) A 5G version will also be available this fall starting at $499. The Pixel 4a is powered by a Qualcomm Snapdragon 730G chip paired with 6 GB of RAM and 128 GB of storage. The 4a is a relatively small phone, with a 5.8-inch OLED display that covers the front. A small hole punch in the corner accommodates the 8 megapixel selfie camera. The single rear camera is 12 megapixel with dual-pixel focusing. The phone comes with an 18W USB-PD fast charger for its 3,140 mAh battery. It also has a fingerprint reader on the back, headphone jack up top, stereo speakers, and NFC. It does not have water resistance nor wireless charging. It will be available in black (only) starting August 20th from Google, Best Buy, Amazon, Google Fi, U.S. Cellular, and Verizon. Pre-orders from Google and Google Fi start today. Google also revealed that a 5G-enabled Pixel 5 will be announced in the "coming months" and be available this fall, but said little else about it.
---