Samsung Galaxy Z Flip 5G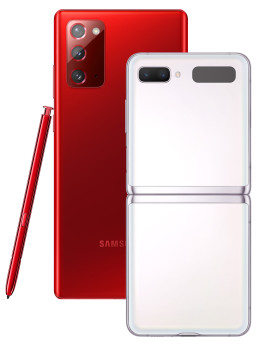 Samsung today launched new color options for two of its flagship phones, available "in limited quantities". The Galaxy Note20 will be available in a new Mystic Red color. This new color joins the current line-up that also includes Mystic Bronze, Mystic Green and Mystic Gray. Also, the Galaxy Z Flip 5G will be available in Mystic White, which joins Mystic Bronze and Mystic Gray. Samsung.com is offering special deals on both phones when trading in an eligible phone.
---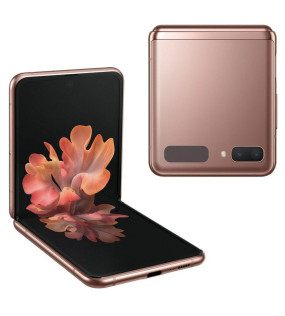 Samsung today announced the Galaxy Z Flip 5G, a variant of the company's folding-screen, clamshell-style phone that adds sub-6 GHz 5G and a faster processor, but is otherwise similar to the 4G version. In the US, it will be available for $1,450 starting August 7th from AT&T and T-Mobile, and unlocked from Samsung, Amazon, and Best Buy. The processor is Qualcomm's new, top-end Snapdragon 865+, compared to the older Snapdragon 855+ in the 4G version. The Z Flip 5G will support the sub-6 GHz 5G networks of AT&T and T-Mobile in bands 2, 5, 25, 41, 66, and 71, as well as 4G LTE in all US bands. The 5G variant looks identical to the 4G model, except it comes in new colors: Mystic Gray and Mystic Bronze, both with a haze finish that minimizes fingerprints. The Z Flip has a unique bending display featuring "flexible glass". The Z Flip also has a 3,300 mAh battery and 8 GB of RAM.
---