Samsung Galaxy S20
Info Photos News Forum 1 Hands-On ›
Samsung has started rolling out an OS update that brings several key features of the new S23 series to older high-end models such as the Galaxy S22, S21, and S20 series. The update is also rolling out for the S21 FE, S20 FE, Z Fold4, and Z Flip4, and soon the Z Fold3 and Z Flip3. The One UI 5.1 update adds Expert RAW features as part of the Galaxy Camera app, bringing new pro-level options and a new Photo Remaster tool. (Only higher-end models will get this feature.) Samsung Notes with Google Meet offers new real-time collaboration tools. The update also includes new connectivity and integration features with Galaxy Book laptops. There's also a new weather widget, and "Modes and Routines have expanded to enable custom wallpapers, ringtones, touch sensitivity and fonts".
---
---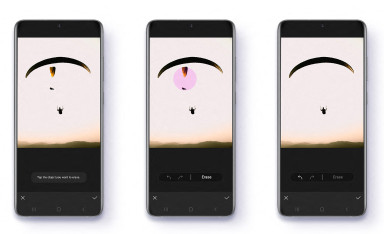 Samsung today announced the availability of its One UI 3.1 software update, which brings select software features of the new Galaxy S21 series to most higher-end Galaxy phones from 2020 and 2019. New features include an improved "Single Take" camera mode, which captures a variety of still and video formats simultaneously. It also brings Object Eraser (shown), an intelligent photo editing tool to cut out unwanted parts of photos. "If you want to edit out distracting objects, simply tap the area you wish to remove and it will be automatically selected and deleted." Other new features include Private Share, to control who is allowed access to the content you send and how long it is available, and Eye Comfort Shield, which automatically adjusts the display's blue light output based on the time of day. Finally, there's Multi Mic Recording, which, when in Pro Video mode, allows you to simultaneously record audio through both your phone and a connected Bluetooth. The One UI 3.1 update is available starting today for the following Galaxy phones: S20 series, Note20 series, Z Fold2, Z Flip, S10, Note10, Fold, A71, A51, A90, A80, A70, and A50. All of those phones will receive the new Single Take, Object Eraser, Private Share, and Eye Comfort Shield features. Multi-Mic Recording will only be available on 2020 flagship phones: Galaxy S20 series, S20 FE, Note20 series, Z Fold2, and Z Flip 5G.
---
Samsung has provided key details on a new commitment to offer major new versions of Android to existing phones. All Galaxy S, Galaxy Note, and Galaxy Z (foldable) series devices will receive "three generations of Android operating system (OS) upgrades". For example, current models that shipped with Android 10 will receive an update to Android 11, plus the next two major versions. Higher-end Galaxy A models — such as the A51 and A71 — are also included, as well as last year's models (the S10 and Note10 series) and the original Galaxy Fold. Samsung also revealed that the S20 series will be its first models to receive the Android 11 update, "with other devices to follow shortly thereafter." Samsung briefly mentioned the new commitment during its Note20 launch event, but did not elaborate on the details until today.
---
Samsung has launched an unusual twist on phone trade-ins for its flagship S20 lineup. With the "guaranteed buy-back program", people who buy an S20 directly from Samsung can opt in to a program that will let them return the phone within two years for 50% of the purchase price. The phone must be in good condition, with a perfectly working display and no breaks or cracks. Customers must opt in to the program when making the initial purchase, and receive a credit with Samsung, not cash, when returning the phone.
---
Samsung has slashed the price of its flagship Galaxy S20 5G and Galaxy S20+ phones by $200 at retailers like Amazon and Best Buy, bringing the base configuration of the unlocked phones down to $800 and $1,000, respectively. The top-end Galaxy S20 Ultra is not currently being discounted. The S20 series of phones were just released on March 6th. The unlocked versions now being discounted are compatible with the 4G and 5G networks of major US carriers. The smaller S20 only supports sub-6 GHz 5G, but the larger S20+ supports both sub-6 5G and faster mmWave 5G networks.
---
Samsung's new Galaxy S20 series of flagship phones are the first phones to be certified by the USB Implementers Forum as compatible with the new Certified USB Fast Charger industry standard. Phones and chargers certified under the program must use USB-C connectors, support USB-PD (Power Delivery) 3.0, as well as the new Programmable Power Supply (PPS) feature of USB-PD 3.0. PPS allows the phone to specify the precise voltage and current required for optimal charging throughout the charge cycle, enabling faster charging speeds than are possible with USB-PD alone. Certified USB Fast Chargers are backwards compatible with older USB-C and USB-PD devices. Many current USB-C phones implement fast charging using older USB-PD standards, various versions of Qualcomm's Quick Charge technology, or proprietary technology specific to that manufacturer. The USB Implementers Forum hopes to standardize wired fast charging with this new certification program.
---
Google is expanding the list of phones supported by its Stadia game-streaming service on February 20th. Initially supported only on its own Pixel phones, Stadia will support Samsung flagship Galaxy S and Note series phones (S8 and newer), as well as gaming phones from Razer and Asus (ROG Phone and ROG Phone II). For a controller, gamers can either connect a Stadia controller via USB, or third-party controllers via Bluetooth. Stadia competes with Microsoft's xCloud and Nvidia's GeForce Now. Like those other game-streaming services, Stadia runs full console-quality games on powerful servers in the cloud, streaming video of the rendered graphics to the user's device. Such services benefit from the higher data rates and lower latency of 5G networks. Forthcoming 5G SA networks will further reduce latency and improve data rates.
---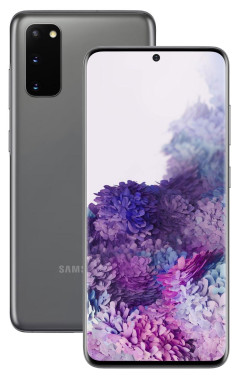 Verizon will offer a special version of the smaller Samsung Galaxy S20 5G that supports both mmWave and sub-6 GHz flavors of 5G in the second quarter. The larger S20+ and S20 Ultra support both types of 5G, and Verizon will sell those models starting March 6th. But the standard S20 for the US only supports sub-6 5G, which Verizon won't launch until later this year. Verizon's special version will support its current (mmWave) 5G network as well its upcoming sub-6 5G network. Although the special version will launch later and include extra components to support mmWave, it will be the same price as the standard version: $1,000.
---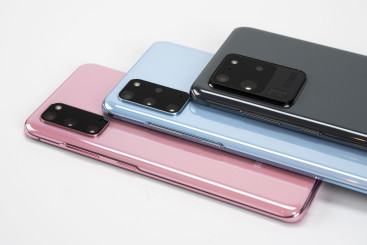 Samsung's new flagship Galaxy S phones for 2020 are somewhat predictable in appearance and features, and they've leaked like crazy, but there are a few surprises. There's no smaller, more affordable model like last year's S10e, nor is there a separate 5G model. They're all large and expensive, and they all have 5G. A new top-end option has been introduced beyond the "plus" model: the S20 Ultra. The Ultra seems to be stepping on the toes of Samsung's Note series, offering a huge screen and everything-but-the-kitchen-sink feature list for people willing to pay a premium. All three models have an all-new camera system with some new tricks. How well do the few features work? How do the phones feel in person? We have your hands-on report right here.
---
Samsung today announced its new flagship phones for 2020: the Galaxy S20, Galaxy S20+, and Galaxy S20 Ultra. In the US, all three models support 5G and are powered by Qualcomm's newest top-end Snapdragon 865 chipset paired with 12 GB of LPDDR5 RAM. The base model S20 supports sub-6 GHz 5G; the S20+, S20 Ultra, (and a special version of the S20 for Verizon) are the first phones in the US to support both sub-6 and mmWave flavors of 5G in one phone. The S20 series also supports DSS and SA 5G networks, technologies US carriers are moving quickly to deploy. Compared to last year's S10 and S10+, the S20 and S20+ are a bit taller, allowing larger batteries and slightly larger QHD+ displays. The new Ultra model is larger still, sporting Samsung's largest phone display yet at 6.9 inches diagonal. The cheapest S20 model costs $1,000, while the S20 Ultra starts at $1,400. All three have an all-new triple-camera system on the back (with standard, wide, and telephoto cameras), 120 Hz display refresh, and 8K video capture. The phones can capture 33-megapixel stills while recording 8K video and can upload 8K video to YouTube. The camera app also has improved night and Super Steady modes, as well as a new Night Hyperlapse mode, and a new "Single Take" mode that captures a variety of still and video clips at once and uses AI to suggest several best output options. The design of the S20 series is roughly similar to the S10 series, and carries forward most of the same features, such as a curved-edge display, curved glass on both sides, in-display fingerprint reader, Wireless Power Share, wireless and wired fast charging (25W fast charger included), Samsung Pay, and a memory card slot. The new S20 phones do not have a 3.5mm headphone jack, but wired (USB-C) earbuds are included. A "Space Zoom" feature offers 10x digital zoom using new AI algorithms. Google Duo video calling has been integrated into Samsung's phone app, and — exclusive to 5G Samsung Galaxy phones — supports full-HD resolution.
Galaxy S20: 6.2-inch display, 4,000 mAh battery, 128 GB of storage, 12 megapixel main camera (f/1.8, 79º), 12 megapixel wide camera (f/2.2, 120º), 64 megapixel telephoto and 8K video camera (f/2.0, 76º, 3x zoom via crop). 10 megapixel selfie camera. Available in Cosmic Gray, Cloud Blue, and Cloud Pink for $1,000. The Verizon version will also support mmWave 5G, but doesn't ship until Q2.
Galaxy S20+: 6.7-inch display, 4,500 mAh battery, 128 or 512 GB of storage. The same cameras as the S20, plus a ToF depth camera. Both sub-6 and mmWave 5G. Available in Cosmic Gray, Cloud Blue, and Cosmic Black starting at $1,200.
Galaxy S20 Ultra: 6.9-inch display, 5,000 mAh battery, 128 or 512 GB of storage, and the option for up to 16 GB of RAM. The same wide-angle camera as the other models, but upgraded main and tele cameras: The main camera sports 108 megapixels (f/1.8, 79º), using 9-to-1 pixel binning to produce high-quality 12 megapixel images by default. It also handles 8K video. The unique telephoto camera (48 megapixel, 24º, f/3.5) accomplishes a 10x optical zoom using a "folded" design with a prism to arrange most of the necessary lenses sideways. Supports 45W fast charging. Available in Cosmic Gray and Cosmic Black starting at $1,400.
The Samsung Galaxy S20 series will be available from most major US carriers and retailers, as well as unlocked, starting March 6th. Pre-orders start February 21st. Pre-orders include a credit with Samsung: $100 credit toward a Samsung product with a pre-order of the S20, $150 credit with the S20+, or $200 with the S20 Ultra. The $150 credit for pre-ordering an S20+ is enough to cover the cost of the new Galaxy Buds+, new Bluetooth true wireless stereo earbuds that have 11 hours of battery life
before
needing the included charging case.
---
Two interesting new approvals for unannounced Samsung phones appeared on the FCC web site this week. The limited info available in the FCC filings indicate that they are flagship-level phones, which will presumably be announced at next month's Unpacked event in San Francisco. One model appears to be a new foldable, while the other is a 5G model in the flagship Galaxy S series that will replace the current S10 series. The SM-F700 is the foldable, as indicated by the model number as well as text in the approval that says the phone is "capable of operating in folded closed and unfolded open configurations". (The Galaxy Fold had model number SM-F900.) The only variant approved by the FCC so far does not appear to be US-specific, although it does support 4G LTE in bands 2, 4, 5, 12, 13, 25, 26, 29, 30, 41, and 66. It does not include any 5G in any US frequency bands. Rumors suggest this model may be called the "Galaxy Z Flip". The other model just approved is the SM-G981U. The model number suggests that this is a US-specific variant of a new Galaxy S-series flagship phone, but not a top-end "plus" model. (The Galaxy S10+ had model number SM-G975.) It supports 5G, but only in sub-6 GHz bands, not mmWave (which is faster but has limited coverage). It supports 5G NR in bands 2, 5, 41, 66, and 71; and 4G LTE in bands 2, 4, 5, 7, 12, 13, 14, 25, 26, 29, 30, 38, 41, 46, 48, 66, and 71. It also includes CDMA for Sprint's network. That translates to excellent support for all 4G and sub-6 GHz 5G networks launched or announced in the US to date. The SM-G981 also supports NFC, MST (Samsung Pay), and two-way wireless charging, according to the FCC docs. Rumors suggest this model may be called the "Galaxy S20 5G".
---