Asus ROG Phone II
Info Photos News Forum 6 Hands-On › Our Review ›
Google is expanding the list of phones supported by its Stadia game-streaming service on February 20th. Initially supported only on its own Pixel phones, Stadia will support Samsung flagship Galaxy S and Note series phones (S8 and newer), as well as gaming phones from Razer and Asus (ROG Phone and ROG Phone II). For a controller, gamers can either connect a Stadia controller via USB, or third-party controllers via Bluetooth. Stadia competes with Microsoft's xCloud and Nvidia's GeForce Now. Like those other game-streaming services, Stadia runs full console-quality games on powerful servers in the cloud, streaming video of the rendered graphics to the user's device. Such services benefit from the higher data rates and lower latency of 5G networks. Forthcoming 5G SA networks will further reduce latency and improve data rates.
---
Asus this week announced the ROG Phone II Ultimate Edition, which has a new Matte Black design, 1 TB of storage instead of 512 GB, and Cat. 20 LTE instead of Cat. 18. Like the standard and Elite editions, the Ultimate Edition comes with a Qualcomm Snapdragon 855+ processor, 12 GB of RAM, and 120 Hz screen, and a 6,000 mAh battery.
---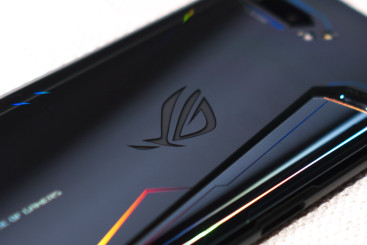 The Asus ROG Phone II is a beast of phone, and that's absolutely by design. Asus took its gaming-optimized ROG Phone and turbocharged everything, from the 6.6-inch 120 Hz AMOLED display to the huge 6,000 mAh battery. It has top specs and numerous optimizations to ensure peak gaming performance, as well as many thoughtful extras inside and out to optimize it for using in landscape orientation. If you want the very best gaming phone, Asus has a serious contender here. How does it stack up? We check it out in this hands-on.
---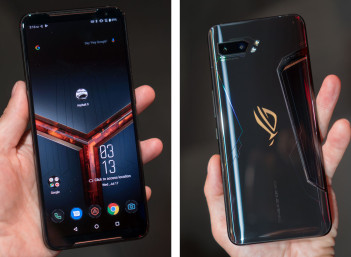 The new Asus ROG Phone II builds on the basic design of the original but improves on it in almost every way, offering a larger screen, larger battery, improved software, and faster refresh and response times in every area. Designed for gaming, it includes an extra USB-C port as well as extra antennas and microphones to optimize performance in landscape orientation. The full-HD AMOLED screen has been stretched to 6.6 inches and sports 120 Hz refresh rate, 1ms response time, 240 Hz touch sampling, HDR, and Gorilla Glass 6. The battery is 6,000 mAh and supports fast charging via Quick Charge 4 as well as USB-PD. It's powered by a Qualcomm Snapdragon 855 Plus chipset with 12 GB of LPDDR4x RAM and up to 512 GB of UFS 3.0 storage. It also supports 802.11ad gigabit Wi-Fi using 60 GHz for wireless display. The shoulder buttons have improved latency, haptics, and ergonomic options. The cameras have been upgraded to the same 48-megapixel + 13-megapixel wide cameras found in the new ZenFone 6. It also has an in-display fingerprint reader, front-firing stereo speakers, and NFC. Like the original ROG Phone, it has an elaborate cooling system to prevent processor throttling, and a new cooling accessory with a fan is 4x quieter than the original, and adds an extra 3.5mm jack for landscape use. Other optional accessories include gamepad controls that can be attached to the sides or used wirelessly, and a second-display accessory. The software includes multiple optimizations for gaming, including per-game options. Users can choose between an Asus interface theme or stock Google Android. The phone will launch in western markets starting September 4th. Pricing has yet to be announced.
---