LG Stylo 5 / 5v / 5+ / 5x
Cricket is offering a choice of eight different phones for free to new customers through the end of the month, and two models after that. Until October 1st, the free choices include several mid-range models such as the Moto g7 Supra, LG Stylo 5, and Nokia 3.1 Plus. Also free are the Samsung Galaxy J2 Pure, LG Harmony 2, LG Fortune 2, Moto e5 Cruise, and Nokia 3.1 C. After Oct. 1st, the Moto e5 Cruise will continue to be free until Nov. 21. The Samsung J2 Pure will be free again Oct. 11 - Nov. 21.
---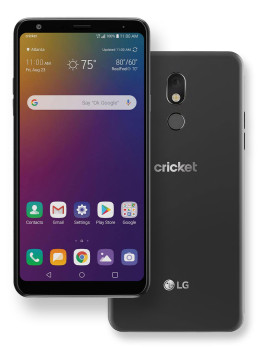 Cricket launched the LG Stylo 5 today, an update to LG's affordable, large-screen phone with a stylus. Compared to last year's Stylo 4, the new model has Android 9 (Pie) and a slightly larger battery at 3,500 mAh. The Stylo 4 was offered by many US carriers, and FCC filings reveal that the Stylo 5 may also be offered by Sprint, T-Mobile, Metro, and Verizon. The Stylo 5 looks much like the 4 and has many specs in common, including a 6.2-inch full-HD display, 13-megapixel main camera, USB-C connector, 32 GB storage, and a memory card slot. Cricket is selling the Stylo 5 for $230. The Blonde Rose color is a Cricket exclusive; the company is also offering the phone in Platinum Gray.
---