BLU Vivo XL
Info Photos News Forum 1 Hands-On ›
Blu is not only a fast-growing company, they're a fast-changing one as well. Most Blu phones to date have been cheap, plastic, and loaded with plain Android. At CES this year, Blu had a bit of a coming out party as a more aspirational brand. Their new Vivo 5 and Vivo XL have AMOLED displays, premium designs, advanced features, and a new, custom Blu skin on top of Android. Yet they stay true to Blu%u2019s mission of providing affordability, topping out at $200. We spent some time with the new models.
---
Blu and Celltick today announced a deal to put Celltick's Start screen technology on all new Blu phones. Start is an interactive lock screen that includes shortcuts to favorite contacts, apps, and more, while displaying content automatically personalized to the user. Users can customize the shortcuts and content they see, or turn off Start completely. Celltick and Blu make money form the arrangement by suggesting content from media partners — such as Huffington Post — and adding pre-roll video ads to video content selected by the user. Blu is also able to gather data to better understand which apps and content its users prefer. The new Blu Vivo 5 and Vivo XL include Start.
---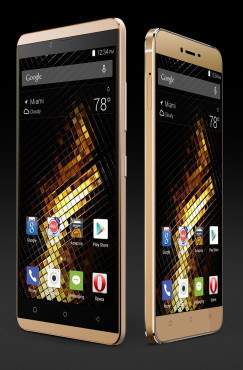 Blu today announced the Vivo 5 and Vivo XL affordable Android smartphones. Both have a premium design, and similar specs. The Vivo 5 (pictured on the right) is Blu's first phone with unibody metal design carved from a single block of aluminum. Both phones sport a 5.5-inch HD AMOLED display, 1.3 GHz octa-core MediaTek MT6753 processor, 13-megapixel camera, Type-C USB connector, and 3,150 mAh battery. The phones ship with Android 5.1, upgradeable to Android 6. Besides design, the two phones differ in a few other areas. The Vivo 5 is 6.9mm thick, while the Vivo XL is 7.5mm. The 5 has 3 GB of RAM and 32 GB of memory, while the XL has 2 GB of RAM and 16 of memory (both have a memory card slot.) Finally, the XL supports LTE bands 2, 4, 7, 12, and 17 - for full US network support - while the Vivo 5 only supports LTE bands 2, 4, and 7. The Vivo 5 will sell for $199 unlocked next month, while the Vivo XL will go for $149 this month. Both will be sold via BestBuy.com and Amazon.com.
---