Casio G'zOne Commando 4G LTE
Info Photos News Forum 15 Reviews 4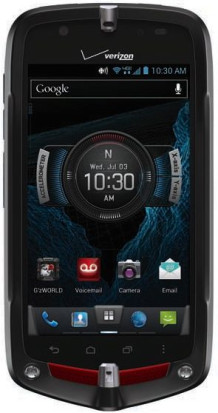 The recently-announced Casio Gz'One Commando 4G LTE can connect with the Casio G-Shock Watch and share information via various Bluetooth 4.0 Low Energy profiles. Both the phone and the watch are ruggedized products, making them an ideal pair, and are among the first to use some of these profiles. When connected, the Commando and G-Shock watch can be used to receive call notifications, messages and emails, just as some smartwatches can. The Commando and G-Shock together use the Find Me profile to let G-Shock watch wearers find their Commando if they are in close proximity. Alternately, the Phone Alert Status Profile can be used to receive alerts if the G-Shock watch wearer wanders too far from their Commando. The Commando and G-Shock watch can also offer alerts when there's a sudden change in atmospheric pressure, which could predict a change in the weather. The Commando goes on sale at Verizon Wireless stores June 27 for $99.99 after $50 mail-in rebate.
---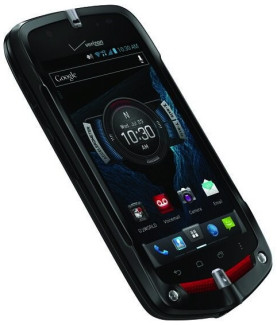 Verizon Wireless today announced the Casio G'zOne Commando 4G LTE, an update to last year's model. The Commando is a fully ruggedized Android smartphone that can withstand shock, dust, water, fog, sand, and extreme temperatures. It features Casio's G'zWorld app and Gz'Gear sensor for mapping and interacting with the outside world, and can provide information on tides, constellations, barometric pressure, and more. The device has an 8-megapixel camera that can record 1080p HD video and slow-motion video. It also has a 1.3-megapixel camera facing the user for video chats and self portraits. The touch display measures 4 inches, had 800 x 480 pixels, is protected by Gorilla Glass 2, and features Glove Mode, which allows the Commando to be used when wearing gloves. It is powered by a 1.5GHz dual-core processor, has 1GB of RAM, 16GB of storage, and supports microSD cards up to 64GB. The Casio G'zOne Commando 4G LTE is a global device, and goes on sale June 27 for $99.99 after $50 mail-in rebate.
---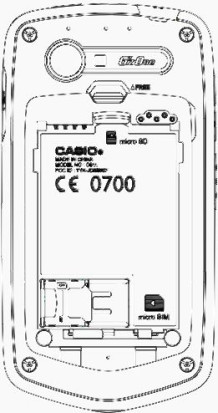 Documents seen on the Federal Communications Commission web site provide details about a previously unannounced device from Casio. The FCC confirms that the Casio C811 runs on an LTE frequency used by Verizon Wireless, in addition to Verizon's CDMA frequencies. The FCC shows that the C811 also runs on international GSM spectrum bands. Other features revealed by the FCC include a microSD slot, Wi-Fi, and NFC. A drawing of the C811 shows G'zOne branding, which is used for Casio's rugged line of devices. Given the presence of LTE, NFC, Wi-Fi, and international GSM support, it is likely that the C811 is an Android smartphone bound for Verizon Wireless. Neither Casio nor Verizon Wireless has provided any details about this device.
---