Sony Xperia TL
Info Photos News Forum 7 Reviews 2
AT&T today announced that the Android 4.1 Jelly Bean update is now available to the Sony Xperia TL. Some of the stand-out features include a new data usage calculator, more useful messaging notifications, a new camera interface with improved HDR shooting, and an improved battery management tool. AT&T also adds the AT&T DriveMode application to control the communications features of TL's that are inside moving vehicles. The update can be pulled down manually via Wi-Fi beginning today.
---
Sony today provided an update to its Jelly Bean distribution timeline. According to Sony, the Xperia T, TX, and V will receive Android 4.1 in February and March as planned. The Xperia P and J will also receive Jelly Bean in March. The Xperia S, SL, ion, and acro S will get Jelly Bean in late March or early April. Last, Sony said the Xperia U, miro, tipo, and sola won't be updated beyond Android 4.0 Ice Cream Sandwich.
---
Sony Mobile today outlined several new features and other improvements it is adding to the Xperia T and TX through a maintenance update. One of the most significant new features is support for HD Voice, which filters out background noise and improves the sound quality of voices in the earpiece. The Xperia T/TX should both see improvements in standby time thanks to new power management features that are put into effect when the display is off. The maintenance update also adds screen mirroring for compatible Miracast HDTVs, and makes change to the media and Walkman playback functions. The Xperia T is sold as the TL by AT&T in the U.S. AT&T hasn't said if its variant of the Xperia T will receive this software update.
---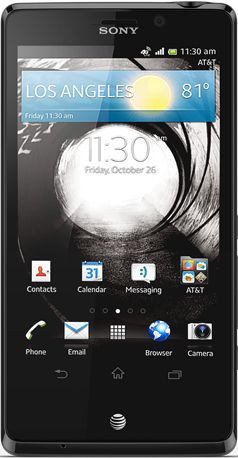 AT&T today announced that the Sony Xperia TL will be available online and in stores beginning November 2. It will cost $99.99 with a new two-year agreement. The TL is the official "Skyfall" movie phone, and comes with James Bond-themed content, ringtones, and videos. It will also come with a programmable NFC tag that interacts with the Bond content.
---
Sony Mobile today revealed a list of its devices that will be updated to Android 4.1 Jelly Bean. According to Sony, the bulk of its 2012 Xperia lineup will receive Jelly Bean, including the Xperia T, TX, and V. These devices will begin to receive Jelly Bean during the middle of the first quarter of 2013. Other devices slated for Jelly Bean include the Xperia S, acro S, ion, P, go, and Xperia J. Sony will provide more information with respect to the timing of the Jelly Bean update for this second list of phones at a later date. Most of Sony's 2011 devices will be updated as far as Android 4.0.4 Ice Cream Sandwhich, but not Jelly Bean.
---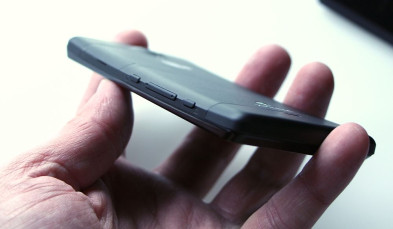 Sony's latest Android smartphone for AT&T is the Xperia TL. This LTE-equipped device has a solid screen and some personality in the design. Here are our first thoughts.
---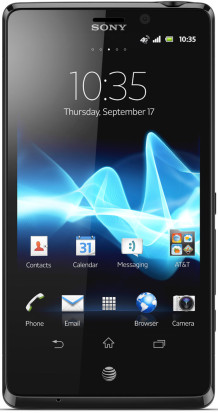 AT&T today announced the Sony Xperia TL, an Android 4.0 smartphone that includes a 4.6-inch 1280 x 720 HD display with Sony's Mobile Bravia Engine. The TL, which is sold as the Xperia T in other markets, features a 13-megapixel camera with a quick-launch feature, and can capture 1080p HD video. The user-facing camera can capture 720p HD video. Other specs include a dual-core 1.5GHz processor, NFC for one-touch sharing and use with SmartTags, and DLNA and MHL for easier photo/video sharing with television sets. The TL includes the latest media applications from Sony, which are compatible with Sony Entertainment Network content. The TL works with AT&T's LTE and HSPA+ data networks, and it will be updated to Android 4.1 Jelly Bean after launch. The Xperia TL will be available from AT&T's GoPhone prepaid service in the coming months. Pricing was not revealed.
---