Nubia
Phones & Info News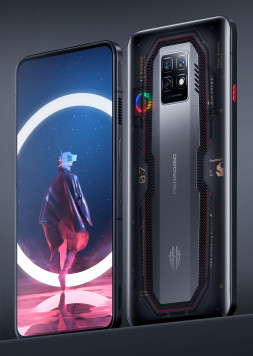 Nubia has announced its new Redmagic 7 Pro flagship gaming phone for international markets. It builds on the already high-end specs of the Redmagic 7 with improvements to the display, battery, and gaming performance. The full-HD AMOLED display now fully hides the front camera using under-display camera technology, offering an uninterrupted all-display experience. The refresh rate takes a slight hit, though, from 165 to 120 Hz. A unique new chip that Nubia calls Red Core 1 is designed to boost gaming performance by handling certain audio, haptic feedback, and cosmetic lighting functions. This frees the Snapdragon 8 Gen 1 chip to devote more processing power to core gaming performance. Nubia has also enlarged the battery to 5,000. A "7th gen" fingerprint sensor doubles as a heart-rate sensor. Most other features are similar to the RedMagic 7, including 65W fast charging (65W charger included), active cooling system with 20,000 RPM fan, shoulder buttons, RGB lighting effects, Wi-Fi 6, 3.5mm headset jack, 64 megapixel camera, and NFC. Support for US 4G and 5G networks appears to be limited (LTE in bands 2, 4, 5, 12, 26, 41, and 66, plus 5G in bands 41 and 77). It comes standard with 16 GB of LPDDR5 RAM. The base version is Obsidian (black) with 256 GB storage for $799. A step-up "Supernova" version has 512 GB storage, a transparent back, and RGB lighting in the fan. It will run $899. The Redmagic 7 Pro launches April 27th, with "an early bird offer from April 22". It will be available directly from the Redmagic web site.
---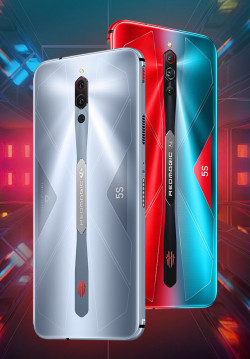 Nubia has started taking pre-orders for its latest gaming phone, the RedMagic 5S. As gaming phones go, it's relatively affordable, starting at $579. Its gaming creds include Qualcomm's top-end Snapdragon 865 chipset, a built-in cooling fan, 8–12 GB of LPDDR5 RAM, 128–256 GB of UFS 3.1 storage, 6.65-inch FHD AMOLED display with 144 Hz refresh and up to 240 Hz touch sampling, 4,500 mAh battery, and up to 55W fast charging (18W charger included). It also has touch shoulder buttons, fully customizable RGB lighting effects, 3.5mm headset jack, and HDMI output. Other features include a 64 megapixel main camera, 8 megapixel wide camera, 2 megapixel macro camera, NFC, and a fingerprint reader. Its support for US networks is basic, including 5G NR in band 41 (T-Mobile) and LTE 2/4/5/12/26/41. Available accessories include a larger fan that clips on the back, and physical game controls that attach to the ends via a special case. The base version for $579 has 8 GB RAM, 128 GB storage, and a "Sonic Silver" color scheme. The step-up "Pulse" version has 12 GB RAM, 256 GB storage, and an eye-catching red/blue color scheme, for $649. Pre-orders start today with full global availability on September 2nd.
---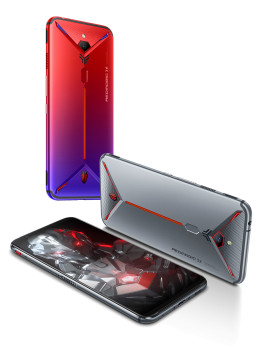 The Nubia Red Magic 3S gaming phone will launch next week — October 16th — starting at $479. It has a faster processor (Snapdragon 855+) and storage (UFS 3.0) than original Red Magic 3, but the specs and design are otherwise almost identical. It has a 6.7-inch, full-HD OLED display with 90 Hz refresh rate, 240 Hz touch sampling rate, 5,000 mAh battery, shoulder buttons, liquid+air cooling with integrated fan, and a customizable light-up strip on the back. It also has a 48-megapixel Sony main camera, 3.5mm headset jack, fingerprint reader, and 27W fast charging. It does not have NFC, wireless charging, nor a memory card slot. It supports LTE 2/4/5/12/25/26/30/41/66 for US networks, giving it better support for AT&T's network than many other unlocked phones. The base version has 8 GB of RAM / 128 GB of storage, and is available in black or silver for $479 direct from the Red Magic web site. An upgraded "Cyber Shade" version has 12 GB RAM / 256 GB storage and a red/purple gradient design for $599.
---