Review: Samsung Galaxy S6 Active for AT&T
Article Comments
Jun 26, 2015, 8:30 AM by Eric M. Zeman @phonescooper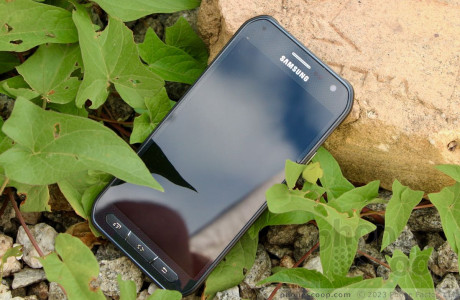 Samsung clad its flagship phone in hardier garb and called it the Galaxy S6 Active. This waterproof Android smartphone has several advantages over its more delicate siblings. Find out what they are in Phone Scoop's in-depth report.
AD article continues below...
Form
Is It Your Type
The Galaxy S6 Active is for people who want a flagship phone, but need something a bit tougher than today's glass handsets. The S6 Active offers protection from dust, water, and mild drops, but otherwise has most of the same features as the standard S6. You could also simply think of the Galaxy S6 Active as an S6 with a built-in case and a bigger battery.
Body
I've always been a fan of Samsung's Active line of smartphones. The idea is simple: dress down the latest S smartphone in thicker, less fancy garb to make it more resistant to damage. The result is a beefier handset that still looks good and offers a killer spec sheet.
There's no denying the S6 Active takes on a masculine vibe. It has a chunky aluminum frame that forms the outer edges and a camo-patterned back surface. It's not dainty or delicate by any stretch. I'd call the design utilitarian. I can see the S6 Active serving action heroes like Jack Bauer or James Bond as they race around trying to save the world.
The corners are flattened out a bit, giving the phone a unique shape. The lines and patterns in the aluminum frame are pleasing and the plastic rear cover feels tough as nails. Samsung still managed to adorn the Active with some chrome accents, such as the grille for the earpiece, and buttons along the side edges. The chrome contrasts nicely with the matte finish covering the aluminum.
The Active is bigger than the standard model in every dimension. It's also a bit heavier, but that's to be expected in a semi-rugged device with a larger battery. It's not for those with small hands. I am not able to reach the entire screen with my thumb without repositioning the phone in my hand. It'll fit into big pockets, but you'll always know it is there. If you're (still) wearing skinny jeans, the S6 Active isn't going to travel comfortably in your pants.
Samsung picked solid materials for the Active to keep it strong. As mentioned, the metal frame holding the phone together is dramatically thicker than that of the standard S6. The Gorilla Glass 4 panel protecting the display is fitted in tightly. The polycarbonate rear panel has a dimpled texture to it that I rather like. The phone is put together well.
The Active's face is fairly typical for a Samsung handset. It's mostly screen, but there is plenty of bezel above and below the display. Samsung was forced to use three physical buttons for interacting with the Android user interface, as capacitive keys don't work when wet. Moreover, the Active loses the S6's fingerprint reader. That's a bummer. The buttons (multitask, home, back) are raised slightly and have a pattern in the plastic to help set them apart. I was pleased with the travel and feedback of the buttons. They work well.
You'll notice two buttons on the left edge of the phone. The top button is shortcut button (that the standard S6 lacks), while the bottom one is the volume toggle. In addition to chrome accents, the buttons have a textured design that is easy to feel with your thumb. The profiles are quite sufficient in helping you locate the buttons. They don't offer a lot of travel, but produce a loud clicking sound when pressed. The same is true of the lock button on the right edge.
The SIM card slot is positioned on the right edge, as well. You can pry it out with your thumbnail. It has a little gasket to protect the phone's innards, so make sure you press it all the way in.
Samsung improved the Active's utility when it comes to waterproofing. On last year's model, users had to close hatches to protect the USB port and headphone jack. The S6 Active has waterproofed these two ports, so there's no need to worry about covering them up before your phone goes for a dip. The headphone jack is on top and the USB port is on the bottom.
How waterproof is the S6 Active? Officially, Samsung says it can sit in up to 1.5 meters of water for up to 30 minutes. That's an increase in depth when compared to last year's model. If you drop it in the swimming pool this summer you won't have to buy a new phone. I tested the Active in a pool, under running water, in the shower, and I even dunked it in some coffee. It survived just fine. The Active lives up to its waterproof billing.
The design of the back surface is rather busy. The Active has the same camera and flash/sensor array as the standard S6 and it is placed in the same spot close to the top.
What's not to like about the S6 Active? Well, the battery is sealed in tight. You can't access it at all. This if offset at least a bit by the increase in size: it holds almost 40% (900 mAh) more juice than the regular S6 battery. The Active doesn't have a memory card slot.
The S6 Active is a hardier phone than its cousin and would be a good match for those who live an active — and possibly more fraught with danger — lifestyle.
Performance
Screen
The S6 Active sports a 5.1-inch quad HD screen, just like the S6 and S6 Edge. The screen relies on Samsung's OLED technology and it's very bright. Colors are perhaps not quite as accurate as I'd like, but that's only because Samsung likes to boost them to appear more intense. The size and resolution are a match made in heaven. The pixel density is incredible; everything on the screen is razor sharp. I found the display quite easy to read outdoors, even under sunny skies. You can't ask for a much nicer display in a modern smartphone.
Signal
The S6 Active did well on AT&T's network in the greater New York area. The phone was always quick to connect calls, but did miss one in a poor coverage area. The Active did not drop any calls, even when moving at highway speeds. Data speeds were best under strong LTE conditions, but didn't slow down too much if the signal was weak. I was easily able to upload photos to Facebook and Twitter while updating apps in the background. I can't say there's anything to complain about as far as the cellular radio is concerned.
Sound
The Active is a fine voice phone. Standard voice calls sounded great via the earpiece speaker, which produced a decent amount of volume. It's not loud enough to overcome extremely noisy spaces, but it will suffice in most places. Voices had a pleasant tone to them, and those I spoke to via the Active said I sounded loud and clear.
The speakerphone is quite good. It works best when placed on a flat, hard surface, but works quite well on its own. The speaker offered plenty of volume and it didn't distort even when set all the way up. You can easily use the Active for speakerphone calls in the office, the car, or at home.
Ringers and alerts are generally loud enough to get your attention as long as you are in the vicinity of the S6 Active. The vibrate alert offers plenty of buzz.
Battery
Samsung gave the S6 Active a significant advantage over the S6 and S6 Edge thanks to its larger battery. Where the S6 and Edge have 2,550 mAh-2,600 mAh batteries, the Active has a 3,500 mAh battery. The larger battery powers the Active through a full day with ease. It performs markedly better than the S6 and S6 Edge, which often gave out at about 15 or 16 hours. The Active managed to squeeze out 20 to 24 hours of actual usage time. If battery life is a top concern, the S6 Active delivers.
Samsung included its Power Saver and Ultra Power Saver modes. These do make a difference if you run into trouble. The first option tones down a few features and doesn't crimp the phone's performance too much. For example, it will limit the CPU a bit, turn down brightness, turn off the key backlights, and put the display to sleep faster. The second takes a more aggressive approach and kills off all but the basics. It strips the UI down to the bare essentials, goes grey-scale, and prioritizes only key functions, such as calling and messaging. These will help you save power, but the Active's larger battery means you shouldn't have to worry about it.
I tested the Active on two different wireless charging pads I have. It worked with both. It charged slowly, but it had no problem switching between the two different standards used by the pads. The phone is quick to charge when plugged into the supplied wired charger.
Basics
Note: Since the Galaxy S6 Active is similar in terms of features to the S6 and S6 Edge, portions of this review have been carried over from our other reviews of the S6 and S6 Edge.
Menus
Android 5.1 Lollipop is the underlying operating system, but Samsung slathered its TouchWiz user interface on top. The basics — lock screen with app shortcuts, notification shade, home screen panels, widgets, app menu, settings tools — are all more or less in place. Samsung dressed most of these core elements up with its own design language, but the way they function is the same as most other Android devices.
The lock screen includes shortcuts to the phone and camera. It's worth noting that the app menu displays items in alphabetical order and supports folders, but you can't uninstall apps. Samsung adopted the same silly "3D" parallax effect (apps move against the background) that Apple did when it introduced iOS 7. I couldn't find a way to turn it off. The notification shade and settings menus rely on the same circle-centric design we saw on the GS5 last year and are rather clunky in their layout. Otherwise, it's Android.
If you're looking to personalize the Active, you have plenty of options. There are a wide variety of wallpapers, alerts, ringers, and widgets. You can also set fonts, text sizes, and control many different aspects of the display. One new thing I really like: you can choose how many app shortcuts and/or widgets will fit on a single home screen panel. For example, the base configuration is four across and four down for a total of 16 shortcuts per home screen. You can alter the grid to a 4x5 configuration or a 5x5 configuration to fit more apps/widgets, if that's how you roll. That's pretty cool. (HTC offers this option as well.)
Samsung still thinks everyone loves Flipboard Briefing and has made it the left-most home screen panel. Samsung hopes people will use it as a socially-connected newsreading platform, much like HTC's BlinkFeed in Sense. You can get rid of it if you want, which is what I did. I replaced it with Google Now.
The other big addition to TouchWiz is themes. Like the themes in HTC's Sense UI, the themes in TouchWiz completely alter the look and feel of the user interface elements. For example, all the app icons, fonts, and colors are different within each theme. Only three themes are pre-loaded: the bluish one we've seen on many Galaxy phones; a pink theme (for girls?); and a space theme that turns your smartphone into an "Adventure Time"-like alternate universe (seriously, it's bonkers). There are dozens more available for download, but, annoyingly, you have to create a Samsung ID/account in order to access them.
The Active includes support for Samsung's split-screen mode, which allows two apps to function in separate windows at the same time. It's fairly easy to activate, and a decent number of apps work with the feature, such as the browser, Gmail, YouTube, messaging, and so on. It's a cinch to drag content from one live window to another, and otherwise interact with the multiple windows. This is a useful feature I wish more smartphone makers would adopt.
The Active offers Samsung's Easy Mode, which dumbs down the user interface for beginners. It's no doubt useful for people who might otherwise be overwhelmed by TouchWiz, but for goodness sake buy something cheaper if you need to use Easy Mode.
Samsung kicked Qualcomm's Snapdragon processors out of its premium device in favor of its own Exynos-branded chips. The Active has an octa-core processor with four cores at 2.1 GHz and four cores at 1.5 GHz in a big.LITTLE configuration. The processor is paired with 3 GB of RAM. After spending nearly a few days with the phone, all I can tell you is that the device does everything in a blink.
Calls and Contacts
Samsung's phone app is a slight variation on the Lollipop phone app. Samsung's app is easier to use, in my opinion, and looks better too. The default screen is the dialpad, but tabs across the top will take you to your call log, favorites, or contacts. In-call options run the norm. Like most Galaxy-branded handsets, the Active offers extensive control over the minutia of the phone app. For example, you can define call rejection behaviors and whether or not it automatically sends text messages. You can choose to automatically reject all calls from select numbers, how the phone answers calls (press the home button, using voice commands, etc.), and even automatically answer all calls when connected via Bluetooth.
There are several gestures for interacting with the phone app. For instance, if you're viewing a contact, raising the phone to your head will automatically call that person's main number. If you've missed calls or messages the phone will vibrate when picked up. Placing your hand over the display or turning the phone over will silence incoming calls.
Sadly, the phone doesn't support WiFi calling or VoLTE.
The contact app is practically the stock Android version. Samsung gave it a fresh coat of paint, but otherwise it functions as we've come to expect. When you open the actual contact app, the default view is all contacts. There are tabs for reaching your favorites and/or groups. All the graphical elements are fitted into colorful circles and it is certainly bright. Individual contact cards hold tons of data these days, and the phone can easily sync with pretty much any internet-based contact database (Gmail, Outlook, Yahoo, Exchange, etc). You can also merge your social networking contacts into the fold and even choose to view only your Gmail contacts, your Facebook contacts, and so on.
Messaging
Gmail is on board, as is the no-longer-relevant Android email app. Gmail handles all types of email accounts these days so the other email app is just a waste of space. AT&T has placed its own AT&T Mail app aboard, as well, though why you'd use it is beyond me.
As far as text messaging goes, the Active only includes the older Android SMS application. I don't know why the newer Messenger app (SMS) from Google isn't on board, but you can snag it from the Play Store quite easily.
The Active also has Google's Hangouts app, which handles SMS and IM together, if you wish. Google+ is installed, but Facebook, Twitter, and Facebook Messenger are all absent.
Extras
Media
There is no shortage of media apps on the Active, that's for sure. By default, the phone comes with Google's Play apps for buying and consuming movies, books, TV shows, and magazines. It also supplies the native YouTube app, as well as basic music and video apps for playing side-loaded content. I rather like the music player, but the movie app is somewhat bare-bones.
Samsung installed its own Milk Music app on the Active. This uses Slacker's back-end but has a user interface created by Samsung. It's actually pretty cool and the selection of music is solid. You have to pay to get an ad-free experience. Samsung also stuck its Milk Video service on the Active. Milk Video is kind of like YouTube Lite, but highly curated.
Other media apps include AT&T Mobile TV, which streams video content over the network. It works best via LTE.
Last, there's a separate app called Peel, which acts as both a TV remote control and content guide for your cable provider. (HTC uses this same app on the One M9.) It's really, really easy to set the app up so you can control your home theater equipment. The Peel engine is pretty good for scouring through your cable provider's content, but also includes options from streaming services, such as Hulu and Netflix.
Camera
Samsung completely overhauled the camera application and that's a good, good thing. The app is so much cleaner and easier to use than Samsung's older camera software. There's no dedicated camera button out of the box, but you can program the Activity key to open the camera with a long press, if you want. You can also set the camera to launch — even when the phone is locked — with two quick presses of the home button. It springs to life spritely.
The shutter buttons are on the right and the settings and other tools are on the left. Gone are the design-heavy icons and elements, which have been replaced with simpler, black-and-white icons. In addition to a large shutter button, the controls on the right also include a separate button for capturing video, one for accessing your photo gallery, another for switching to the selfie camera, and one more for accessing the different shooting modes. On the left, the settings strip includes toggles for the flash, HDR, timer, and effects. The strip also lets you access the camera's full settings menu. Some of the tools in there let you adjust aspect ratio and image size, set location tags and review behaviors, and so on.
If you tap anywhere on the screen, it will focus on that spot but you still need to press the shutter button to take a picture. If you press-and-hold, it will focus on that spot and also use it to set the exposure.
Rather than besiege users with 50 different shooting modes preinstalled on the phone, there are only seven: normal, pro, bokeh, panorama, slow-mo, timelapse, and virtual shot. All the old shooting modes from Galaxy S phones of years past (Shot & More, Sound & Shot, etc.) are available for download from Samsung if you want them.
The normal shooting mode is for those who want to simply point-and-shoot. The pro mode is for those who like to take more control over options such as white balance, focal distance, ISO (or speed), exposure, and so on. In fact, these tools are only available in the pro mode.
The other effects behave as they do on other phones, but the virtual tour tool is pretty unique. When in this mode, you walk around a still object (like a car, or a statue) while recording a handful of shots. You can then send that collection of images to others, providing them with a virtual tour of whatever the object is. They can pan through the images to see what it is like from all sides. I don't really find this all that useful. Sending a short video clip makes more sense to me.
Then there are the different selfie modes. Samsung made it (sort of) easier to take selfies when using the front camera. Let's face it, getting that perfect shot of yourself and touching the screen can be awkward. With the Active, switch to the front camera and aim the phone at yourself. You'll see a circle appear around your face. This means the camera recognizes that a person is in the frame. Then place your finger over the heart rate sensor on the back of the phone to take the picture. It's easier to do in real life than it is to explain it. The bummer is that it doesn't always work.
The selfie camera also includes a wide-angle mode for those group shots, and an interval mode for taking four photos in quick succession. The interval shot mode is to help get the best possible selfie. You pick to keep the one you like best once the shots are all taken.
Lastly, the Active includes an Aqua Mode. Since the screen won't respond to touch when the device is underwater, selecting this mode lets you capture pictures by pressing the Activity key and capture video by pressing the up volume toggle. It also attempts to correct the colors unique to underwater scenes.
My favorite aspect of the camera is its speed. It is always lightning quick to do everything. Camera applications can sometimes be a drag on processors, but the S6 handled the app just fine. It was quick, speedy, fast.
I like the overhauled camera software very much.
Photos
The Active has a 16-megapixel sensor and an aperture of f/1.9 to let in more light. It's a very capable camera and performs beautifully. I was very pleased with the results I achieved with the camera. Focus, exposure, and white balance were almost always spot-on, even in challenging spaces with lots of bright and dark spots. I hardly saw any grain. Colors look fantastic. It really is a great smartphone camera and can cover most of your needs. I'd say it's almost as good as the iPhone 6 / 6 Plus camera, and leagues better than the HTC One M9 camera. With the Galaxy Active in your pocket, you shouldn't ever need to worry about missing those special moments as they occur.
The selfie camera has a 5-megapixel sensor and it, too, is highly capable. My ugly mug never looked so good. People who are big fans of themselves will be really happy with the Active's selfie prowess.
Video
The video camera can capture video up to 4K resolution, and also includes quad HD, full HD, 720p HD, and VGA options. It's probably best to ignore the 4K setting unless you have a 4K TV or display handy. Shooting with the quad HD setting lets you use every pixel on the phone's screen when playing the video back. The resolution is crazy good.
Whichever resolution floats your boat, the S6 delivers sharp, accurate video. I was impressed with the results. The video camera is good enough to cover most of your potential video needs.
Gallery
Like many phones these days, the Active has both Google's Photos gallery app and one created by Samsung. The Samsung gallery is actually rather decent. It makes organizing photos a snap thanks to clear and easy controls for sorting and moving them around. When viewing individual photos, a control strip along the bottom lets you access sharing and editing tools. The sharing dialog box closely resembles the one in the Google Photos app, but adds a couple of options for mirroring the screen to nearby devices, sending the photo to your TV (via DLNA, and also printing them.) These functions all worked well. The editing tools aren't as advanced as the one in Google's app, but they are a breeze to use. There's an auto-adjust function as well as rotate and crop. There's a really neat collage creator for piecing together a handful of images, and a more in-depth editor for adding effects and changing things like contrast, brightness, color saturation, and so on.
Want to save your photos online? There are at least three ways. First, the Google Photos app can be set to automatically upload your images. Second, Samsung will store them if you set up an account. Third, Microsoft OneDrive is available if you prefer to store your photos on Microsoft's servers rather than Google's or Samsung's.
Apps
AT&T is one of the worst offenders when it comes to bloatware. AT&T is, however, allowing Active owners to delete some (but not all) of its third-party add-ons. Some of the bloatiferous apps include AT&T Live, AT&T Locker, AT&T Navigator, AT&T Mail, AT&T Mobile Locate, Smart Limits, Usage Manager, Mobile TV, Digital Live, and AT&T Mobile Transfer. Let's not forget Amazon, AT&T FamilyMap, the Galaxy App Store, Keeper, Lookout, Uber, and Yellow Pages. You're allowed to get rid of about half of these. The Active has about 22 GB of storage available for end users.
Bluetooth
You shouldn't have any trouble with the Active's Bluetooth radio. It connected to everything I threw at it, including headsets, speakers, other phones, smartwatches, PCs, and my car. I made some calls with the Active through my car's hands-free system and they sounded quite good. Music sounded awesome blasting from my best Bluetooth speaker thanks to the aptX profile.
Browser
The generic internet browser app is still making its way onto Android smartphones and I don't know why. It's not a bad app, but there's no point in including both it and Chrome. That gripe aside, the two browsers each do a fine job of rendering web sites on the phone's screen. I thought speeds were particularly speedy over AT&T's LTE network. Web sites look fantastic on the quad-HD display.
Clock
The lock screen offers a large digital clock and the weather, if you want them. You can choose to leave the home screen blank, have just the clock, or the clock and weather. I wish the white clock were a bit easier to read.
GPS
The GPS radio worked fine and was very quick to pinpoint my location. It functioned well with both Google Maps and AT&T Navigator application. Maps is great for getting yourself from place to place, and even better when it comes to searching for nearby points of interest. AT&T's app is functional, but not as feature-rich as Google Maps. It does, however, respond better to dynamic driving conditions. I don't think it's worth the extra monthly fee.
Samsung Stuff
Samsung's good ole' S Voice, S Finder, and S Health apps are available if you care to use them. S Voice is Samsung's voice-activated assistant, but it's nowhere close to being as good as Google Now (or Siri or Cortana, for that matter). It functions OK for doing basics, like making phones calls.
S Finder is Samsung's phone-based search tool. It will help you discover anything on your phone. It's available from the notification tray.
S Health is Samsung's health and fitness tracker. It's actually quite good. You build yourself a little profile and can then track workouts, your diet, set goals, and stuff like that. The heart rate monitor works, but only when you stand still. That means no checking your rate mid-workout.
Activity
The S6 Active has a series of tools packaged together into a single dashboard called the Activity panel. A short press of the Activity button on the left side of the phone opens the panel. There are six core apps: weather, barometer, S Health, compass, flashlight, and stopwatch. You can also turn music on/off for workouts.
Each of the Activities can be expanded and used on the full screen. I was surprised at how accurate the barometer was; it pinpointed my elevation exactly. The compass was very responsive after it was correctly calibrated. I also like having quick access to the flashlight and stopwatch. The stopwatch has a few options. I like that it will read the time aloud if you want it to.
The flashlight can be a solid light or blink in several patterns. You can alter the brightness a fair degree. The coolest part? It has a Morse Code translater. You type a message into the flashlight app and the phone will translate the message into Morse Code and then start dot-dot-dashing the message through the flashlight. Neat!
Wrap-Up
Samsung did a great job with the Galaxy S6 Active. It takes all the appealing facets of the S6/Edge and packages them into a more robust shell. The Galaxy S6 Active is well designed and well made, with quality materials. The phone is a winner in most respects.
The strong aluminum frame adds bulk to the Active's profile, but also gives the phone a warrior-bred appearance. The trade-off is size and weight, which make the phone less hand- and pocket-friendly than the regular S6. The quad-HD screen will knock your socks off. Some may be put off by the locked-in battery and lack of memory card.
The phone performed great on AT&T's network in terms of data and call quality. The Active's larger battery delivers a much-needed boost in power for the phone, which lasts hours longer than the S6 and S6 Edge.
Apps all work perfectly thanks to the zippy processor. The camera does a fantastic job and the camera app is a joy to use. There are plenty of media apps to keep you entertained, and productivity apps for when you need to get work done.
In many ways the Galaxy S6 Active is more appealing than the standard model. As long as you don't mind losing the fingerprint scanner and sleek appearance of the S6, the Active offers better battery life and protection from accidental baths.
The Galaxy S6 Active is an excellent handset and I recommend it highly.
No messages